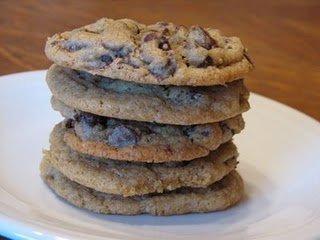 Today I am posting my Gratituesday and my kitchen tip in one post., because I am thankful for this great recipe.
I have been struggling with making my desserts healthier. When we want dessert, we want dessert, not a healthy, not very good dessert. But I know that I need to make at least some of our desserts healthier.
I have been trying to add whole wheat or whole wheat pastry flour to most of my muffins, pancakes, and quick breads. But I have had trouble with putting whole wheat in cookies. I can get by with adding a little whole wheat, but if I add a lot, I get complaints. But I am determined not to give up. I keep experimenting with recipes to see what I can come up with. I want to find some healthy cookies my family will enjoy.
This recipe is one the I have made and my whole family loved it, and it is 100% whole wheat. It is not exactly healthy because it still has a lot of sugar, butter, and chocolate in it, but it is at least better because of the whole wheat. I made these and did not tell anyone that they were whole wheat, no one noticed. They ate these up in no time.
I doubt I will give up making regular cookies anytime soon. My goal is to make at least 50% of our desserts healthier by using whole wheat. So, I am so thankful that I have found a chocolate chip cookie recipe that is somewhat healthy and we all like. I am so glad that I am finding some cookies and desserts that work because it is motivating me to keep trying whole wheat in my recipes.
Whole Wheat Chocolate Chip Cookies
2 cups brown sugar
1 cup white sugar
2 cups butter, softened
4 eggs
2 tablespoons vanilla extract
1 teaspoon baking soda
1/2 teaspoon salt
4 3/4 cups whole wheat pastry flour
3-4 cups semisweet chocolate chips
Preheat the oven to 350 degrees.
In a large bowl, cream together the brown sugar, white sugar, and butter until smooth. Beat in the eggs one at a time, mixing well after each one. Stir in the vanilla, salt,flour, and baking soda until well blended. Then stir in the chocolate chips. Drop spoonfuls of cookie dough onto ungreased baking sheets so they are about 2 inches apart. Bake for 10 to 12 minutes or until the cookies are just starting to brown at the edges. Let cool on the baking sheets for a few minutes before removing to cool on wire racks.
Note: I use whole wheat pastry flour in any non yeast recipe. I find that it works so much better than regular whole wheat in these items. You could substitute regular whole wheat flour though.