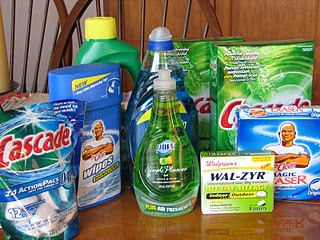 I still have not decided if I like Walgreens.
I had to go to two different Walgreens and still did not get exactly what I wanted. I even went on Tuesday. Both of them were already out of most of the rebate items. The only free rebate item I could find was the allergy medicine, which I will use. I just wanted some of the other rebate items also.
After coupons my total was $17.78. I had money on my gift card from previous rebates. I got $8 in RR and will get $3.99 in rebate for the Wal-zyr. I was able to get all this though without using anything from my budget since I had the gift card.
So, I am kind of happy with this purchase. I wish I could have gotten more rebate items. I am hoping that next week they will have more items in stock so that I can use my $8 RR to pay for the rebate items. What I did not like was I used most of what I had on my gift card and was not able to get much in rebates to replenish it.
How do you feel about Walgreens?
My other deal of the week was more Chocolate Honey Bunches of Oats. I had 3 $2 off coupons left and 3 $1 off coupons that had been in the paper. One of the stores in my area ran it for 6 for $10. So, I could not pass it up. This cereal is a little sweet for us to eat for breakfast. Yesterday I posted how I am getting creative using it. Has anyone else found a creative way to use it? I would love more ideas.