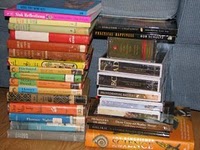 I have not accomplished much cooking the last few days. I did manage to make pizza tonight but that is only because my mother in law was in town and came for dinner. Otherwise, we probably would have had something very simple. I have not even given much thought to what I will cook this week. That is a little unusual for me so hopefully I will get motivated tomorrow to plan this weeks menu.
Friday and Saturday my husband and I went to a homeschool convention. It was the first time we have been to one. We have been homeschooling several years but have never made it to one. The convention was a two hour drive. A friend of ours kept our kids for a couple of days. This is the first time in a long time we have left them overnight. It was nice to have a short break even if it was just going to the convention.
I was not really sure what to expect. I had heard about them but still was unsure of how much I would actually enjoy it. I was prepared to be overwhelmed with all the choices, which I was at first. I know that is a lot of stuff for homeschooling out there but to see so much of it in person was great. I am glad I had my husband there to keep me focused. We found what we needed for next year plus quite a few other things. Actually, a lot of other things.
Our family loves books. We especially love old books. My kids love the old Bobsey Twins, Landmark books, We Were There series, and more. When we discovered the booth at the convention that had nothing but used books, mainly old ones, we were thrilled. We shopped the booth twice. The kept reloading the shelves as fast as people bought them. I could not believe the selection. We came home with quite a lot of books from them.
We also visited the Vision Forum booth three times trying to decide what we wanted to buy. They had so much stuff. We ended up getting some of their video and audio history items. We will have more then enough to keep us busy for awhile. I also ordered the two most recent Elsie books that are on MP3. My girls can't wait to get them to listen to. But I think the best part of the Vision Forum booth was getting to meet Kim of inashoe.com. The first two times we stopped by she was not there but her children and husband were very helpful. When we went back to purchase the items we wanted, they were busy, so I did take the time to talk with Kim except when she helped us purchase the items. But it was nice to at least say hi. Her family does a very good job of representing Vision Forum, I think her children were some of the best behaved ones that I saw. They were all very helpful, knowledgeable, and polite. It was great to meet them all.
We also listened to Chris Klicka of the HSLDA. We both really enjoyed listening to him. He spoke on the battle for our children's minds. We wish we would have had time to listen to more of the speakers. I am sure they were all very good.
On Friday night after the convention we went to a movie. I cannot remember the last movie we saw. We just don't go to the movies. With three kids it is just not something we choose to spend money on. Plus, there is rarely something we would even consider watching. We rarely even watch them on TV or DVD. My husband really wanted to see the new Ben Stein movie Expelled though.
We rarely have no children with us, so we took this chance to go. We really enjoyed the movie. I highly recommend it. We had heard some good things about it and we were not disappointed. I won't take the time to give a full review of it, but if you have the chance to go, please do. I hope people will get out to see this movie. The night we went to see it there was only eleven of us in the theater. I hope this was just because of the time and day we saw it. I think more Christians should see this movie. I rarely recommend any movie. This one I do.
Well, that is enough rambling about my weekend. I hope I did not bore those of you who do not homeschool too much. 🙂 I will try to get back to posting about cooking and kitchen things soon.
The picture is just part of what we brought home. 🙂