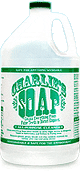 I know I have posted here and here already about my daughters asthma. But I wanted to let you know why I like Charlie's Laundry Soap . Actually, it works for my daughter and me.
For about six months my daughter has had a severe chronic cough. We had not been able to track it down as asthma until last week though. The one thing that I have been able to tell that bothered her was smells, especially cleaners and soaps. She would walk into the laundry room and start having a coughing fit. I did not know what I was going to do. I am also very allergic to most soaps. They break me out in a rash. For years the only laundry soap I have used was Tide.
I decided to try and make my own to see if we both could use it. Well, that did not work. It was too strong smelling. It was very chemical smelling and she instantly started coughing severely. So, much for that. Then I tried some of the free of scents and dyes laundry soap that I found at the store. Guess, what they gave me a rash. Now, I really did not know what I was going to do. We had to have clean clothes.
After searching online, talking to my sister who had used it, and having Crystal at Biblical Womanhood suggest it, I decided to try Charlies. And I am so glad I did. We love it. It has no smell. It does not bother my daughter at all and it does not give me a rash. I do not know what I would have done if I had not found Charlie's.
One of the many reasons I love Charlies is I have not needed to use fabric softener. The clothes come out so well they do not need it. They claimed on their site that you do not need any but I was skeptical. But they are right. You don't need any fabric softener when you use their soap.
So, Charlies Soap definitely Works For Me!