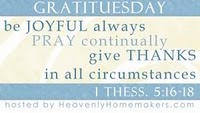 For my first Gratituesday I wanted to post about lettuce and gardening. We picked our first lettuce from our garden this week. It was actually the first thing we have gotten from our garden this year. So I am thankful for homegrown lettuce and our garden. I am so glad that we have the space for a big garden, but I am also thankful for the knowledge of how to garden. That is because my parents showed me how.
I spent a lot of time during my summers as a kid in the garden or in the berry fields picking berries. We helped plant and then helped weed all summer long. Then we got to enjoy the fresh from the garden food. As a kid I hated working in the garden. I thought it was terrible that I had to help. I also hated working in the berry fields. I made a whole $2 a flat picking strawberries. I thought it was horrible that I had to do it. Now as an adult I am glad my parents made it part of our chores and responsibilities. It taught me so much about what goes into gardening and growing your own food. I wish I had paid more attention.
Now as I garden with my children I hope they will take the knowledge they are learning by helping in the garden and put it to use one day in a garden of their own. After my daughter ate some of the fresh lettuce she said "things we make always taste better then the stores". This gave me hope that she is already learning to be thankful for all the work you put into growing your own food.