I have not cooked anything exciting over the last couple of days. I seem to be having trouble getting organized the last couple of days. I really have things I need to catch up on. Piles of papers, bathrooms to clean, floors to mop, and plenty more.
It is when I am having a week like this, that I appreciate having meals in the freezer. I really need the extra time to do other things around the house. Being able to just take a few things from the freezer is a big help.
Last night we had sloppy joes. I had the sauce in the freezer and I made some oven potatoes and salad to go with it.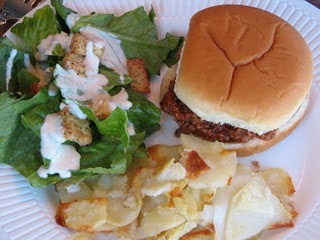 Tonight we had tacos. I had the seasoned taco meat in the freezer and I bought everything else I needed to go with it yesterday when I did my shopping. It was a big relief not to have to worry about fixing dinner.
I really do not know what I am going to fix tomorrow night for dinner. Maybe I will get motivated between now and then to plan the rest of this week's meals. 🙂