My favorite tool for today is my iron. Ironing is one of my least favorite chores. I really dislike it. I have to do it though. My husband has a job where he has to dress up. He wear nice docker style pants with a dress shirt. He has a job where his clothes have to look nice. He also has a job that at times can be messy and he occasionally has to change clothes part way through the day. When you figure in the clothes he wears to church, plus what he wears to work related meetings and events his ironing alone adds up to a lot. I have been tempted to take his clothes to the cleaners but my frugal side resists the temptation.
I also have three kids, two of which are girls, which means skirts and dresses for them, plus my own clothes. With all of this I seem to have a never ending ironing pile.
I used to own an inexpensive iron from Wal-Mart. I think it may have cost around $15. A couple of years ago I invested in one of these.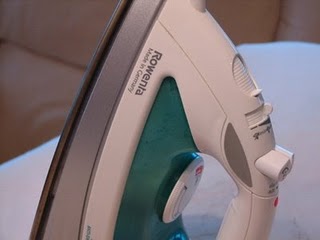 A Rowenta iron. It was a splurge. It was around $75 at Sam's Club. I have seen similar ones elsewhere. Let me tell you though that this purchase was SO worth it. This makes ironing so much easier. The iron just glides over the clothes. It is heavier then any other iron I have used, which seems to help work out the wrinkles better. It also heats and steams much more evenly. I still do not enjoy ironing but it is much easier to tackle it with an iron like this.
Am I the only one that dreads ironing? How do you motivated yourself to tackle this chore? I usually turn on a cooking show or news program that I would not otherwise watch. I also use it as a time to listen to sermons and audio books. I also find that if I set day to iron each week and iron a certain number of items, it helps the pile not get to overwhelming.
For more great tools see Life As Mom.