I was recently helping my husband prepare an item to display in his office. I thought I would share it with you.
Do you like high fructose corn syrup? Do you like to drink it?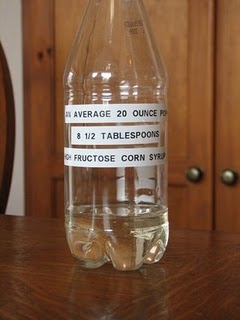 I know that may be hard to see. It says the average 20 ounce pop = 8 1/2 tablespoons of corn syrup. If you can see it, it shows how much eight and a half tablespoons of corn syrup is.
Yes, eight and a half tablespoons! It doesn't sound very appetizing does it?
How does this fit into a post about being frugal? Pop costs money. It is expensive even when you buy it on sale. But not only is pop a cost to your immediate budget have you ever thought about what it does to your health? Is that much high fructose corn syrup good for anyone? And how many people drink several of these each day, or how many actually drink this size? Most people drink the large 36 or 48 ounce size that you get at gas stations and restaurants. No wonder we have in obesity problem in America!
But back to the health issues. This amount of sugar is terrible for us to consume on a daily basis or even weekly. It is bad for our overall health, but especially bad for our teeth. Do you rinse your mouth well, or brush your teeth after consuming this much pop? Have you ever thought that this pop not only adds to your weekly grocery budget, but also to your yearly dental and medical budget?
We rarely buy pop. In fact, we rarely drink anything besides water and milk. We don't even drink much juice. Juice has natural sugar, but it is still sugar (but that is for another post). Our kids rarely drink pop. Maybe once a month at a restaurant or at church dinner. My husband might drink two pops a year, probably less than that.
I like pop, and I used to drink a lot of it. When my husband was in college, we could not afford it. Food was more of a necessity, so I stopped drinking it. Now, I occasionally drink one, but it is less than one per week. But after doing this project for my husband and seeing the visual, I think it will make me think twice before I drink any pop.
Now any guesses what my husband does for his job?
For more frugal ideas see Biblicalwomanhood.