We love books and we have a lot of books. I enjoy searching for new or new to us books. One of the things my husband and I like to do is to search used book stores and antique malls for books. We have found quite a few really rare and good books this way.
One of my best sources for used books has been a book sale that is run by a local non-profit organization. It is a fundraiser for the group. They help people in need with utilities and household necessities along with some medical care. They hold a sale every other month. I am amazed at the amount of books that are donated to them for this sale. They never hold any books over for the next sale. It is all new inventory, every time. They hold the sale in an old house that is probably around 900 square feet. They fill every room with books. The sale is usually busy but not crowded.
I try to make it to this sale as often as possible. I never know what I might find at it. Sometimes I only find one or two books but they will be ones I have been looking for. Other times I may find a box or two. They charge fifty cents to one dollar for each book. Magazines are ten cents. I think it is well worth the price for what I get. If I do not end up liking the book I am only out one dollar or less and the money went to a good cause.
Last Friday was the most recent sale and I found quite a stack of books.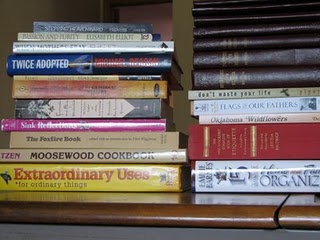 I usually find several cookbooks. This time I found only one I wanted. I found a book on local wildflowers that my girls loved. I also found a few various books from authors that I enjoy reading. I think my best find though was the McGuffey Readers. I found seven of them. Which I think is the whole set. I did not know how much I would use these, but being a home school mom I knew it was a good deal and one worth getting. When my girls saw them they were thrilled. They were so excited that they could read the books that Laura and Mary read in Little House On The Prairie. All three kids are now reading them. They were so excited that I realized right away that they already payed for themselves. Anything that makes learning more exciting is worth it.
If you love books as much as I do but don't have a large book buying budget I would encourage to check around your area for sales like this. Many libraries have sales once or twice a year or they have a sale area of the library. Second hand stores and garage sales are also a great source of books. If you love to read and love books you will never quit learning. You can learn so much on so many different topics just by picking up a book.
For more frugal ideas see Biblicalwomanhood.com