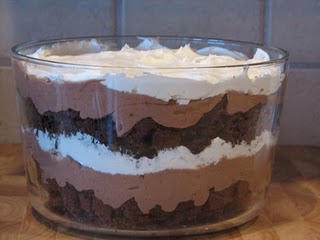 I really have been trying to cook healthier. One of the ways that I have been doing this is to avoid packaged and processed food. However, last Friday I needed a quick and easy dessert to take to a family dinner.
I also wanted something that my daughters could help make. So, I made a dessert that I have made many times in the past. This dessert is really good and when I take it places I rarely have any left.
It does contain a lot of processed and packaged items. This dessert is not something I make often. It also makes a lot, so I do not make it just for our family. It makes a great dessert to serve to company or to take somewhere. I also really like trifles because they look so nice.
When I made this last week I used a homemade brownie mix for the the brownie part. It worked very good. I hope to post that brownie mix recipe later this week.
If you need an easy dessert that looks really nice, give this recipe a try.
Chocolate Brownie Trifle
1 (19.8 ounce) package brownie mix
1 (3.9 ounce) package instant chocolate pudding mix
1/2 cup water
1 (14 ounce) can sweetened condensed milk
1 (8 ounce) container frozen whipped topping, thawed
1 (12 ounce) container frozen whipped topping, thawed
Prepare brownie mix according to package directions and cool completely. Cut into 1 inch squares.
In a large bowl, combine pudding mix, water and sweetened condensed milk. Mix until smooth, then fold in 8 ounces whipped topping until no streaks remain.
In a trifle bowl or glass serving dish, place half of the brownies, half of the pudding mixture and half of the 12 ounce container of whipped topping. Repeat layers. Shave chocolate onto top layer for garnish. Refrigerate 8 hours before serving.
Adapted from an Allrecipes recipe.