The main thing I am doing right now to eat and cook healthier is trying to avoid packaged and processed items. One of my favorite convenient, packaged desserts is brownie mixes. I would get them on sale or use a coupon. I would always keep them on hand to use for a fast dessert.
I have several recipes for homemade brownies, but they are homemade. Besides being convenient, brownie mixes have a distinct texture. I like that texture and flavor that you just can't seem to get with most recipes. When I started trying to cut back on packaged items, I realized this would effect my brownie and cake mixes. I really wanted to find something that would work.
My sister told me about a recipe that she tried from allrecipes. She tweaked the recipe after reading through the reviews. She said it was very close to a box mix. I gave it a try, and I agree it is very close and really good. I used this brownie mix to make my brownie trifle last week.
You can make this as you use it, or you can make quite a few batches and place in jars or Ziploc bags. You can also layer this nicely in a jar to give as a gift. I like to make up several batches of mixes and place them in jars. Then, I have them ready to use anytime I need or want a brownie mix. It is healthier and cheaper than a store bought brownie mix.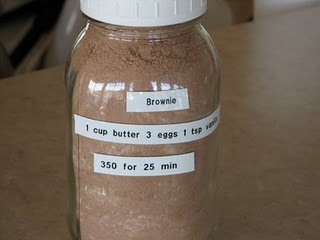 Homemade Brownie Mix Recipe
1 1/4 cups all-purpose flour
1 teaspoon baking powder
1 teaspoon salt
2/3 cup unsweetened cocoa powder
2 cups white sugar
Mix ingredients together and place in a jar or container. When you are ready to make brownies add
1 cup melted butter
3 eggs
1 teaspoon vanilla
Mix until well combined. Grease a 9×13 pan. Spread batter evenly and bake at 350 for 22-25 minutes or until done.