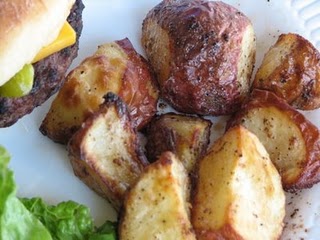 I do not buy frozen french fries or tator tots very often. Now, that we are trying to stay away from packaged and processed foods, I doubt I will buying them at all. I have been making a lot of home made oven fries though.
When I made oven fries or potatoes I would cut the potatoes up into small cubes and toss them with oil and seasonings. When we were visiting OR in July I had dinner at a friend's house. She served us homemade oven fries. They were really good, much better than mine. I asked her what she had done. She told me that she used butter. Butter, I had never thought of that. All this time I had been using oil.
So, when I got back home I tried melted butter instead of oil. They were so much better. They were crispier than my normal oven fries or potatoes. So, thanks Steph for the great tip.
There are several different things that I like to season my oven potatoes with. I think my favorite though is Emeril's seasoning. You can buy it, but there is also a variation that you can make at home.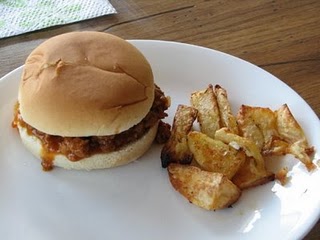 Emeril's Baby Bam Seasoning (this is from his kids cookbook)
3 tablespoons paprika
2 tablespoons salt
2 tablespoons dried parsley
2 teaspoons onion powder
2 teaspoons garlic powder
1 teaspoon ground black pepper
1 teaspoon dried oregano
1 teaspoon dried basil
1 teaspoon dried thyme
1/2 teaspoon celery salt
Place all the ingredients in a mixing bowl.Stir well to combine, using a wooden spoon.Store in an airtight container for up to 3 months.Yield: About 3/4 cup

For more great recipes and tips see Tammy's Recipes and Tempt Your Tummy Tuesday.