I decided today to post about my trifle bowl for Toolin It Up Tuesday. Why my trifle bowl? I guess because I have used it several times over the last few weeks.
Many times food is all about the presentation. Food can taste really good, but if it looks terrible, people will not want to eat it. There are lots of tricks to making food look better but many are time consuming. I find the easiest way to make food look nice is the dish you serve it in. You can take even the simplest of foods and make them look nice by serving them in a nice dish.
My trifle bowl is a dish I use over and over again to help make the simplest of food look nice. I recently used leftover pork and layered it with lettuce, sour cream, salsa, cheese, beans, and guacamole in my trifle bowl to take to a church dinner. These were all simple ingredients that took no time to assemble. Yes, I could have put this dish in any bowl. It would have tasted the same, but it looked so much nicer in my trifle bowl.
You can also do this with taco salad ingredients or any salad. All you need to do is start with the lettuce as the largest layer on the bottom and layer everything else on top.
This bowl also works great for desserts. I use it to make my Chocolate Brownie Trifle. I took this dessert to a family dinner recently and it looked really nice. You can also layer pound cake or angel food cake with fruit and whipping cream for an easy dessert in a trifle bowl.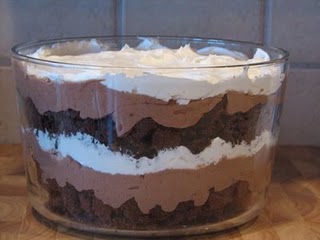 The other thing I like about trifle bowls is they are not expensive. You can usually find them at stores like Wal-Mart or Target for under $15. The one I have is actually a seconds one that I purchased a few years ago for under $5. It has some imperfections in it, but when you have food in it, no one notices.
Do you have a trifle bowl? Do you use it a lot?