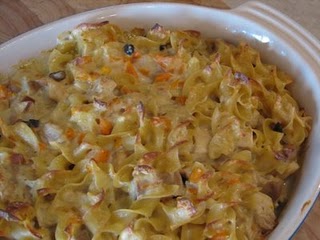 This recipe came from the cookbook Casserole Crazy. It is a great comfort food. It really is like chicken noodle soup, in the form of a casserole. This recipe is not a fancy meal. It is simple but very good.
I think this dish makes a great fall or winter meal. Serve it with homemade bread and you have a really good meal.
Last week I was able to ask the author a few questions. You can read what she had to say here.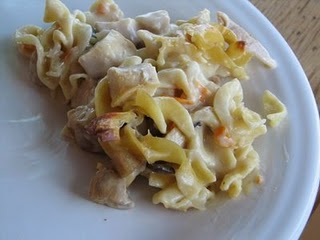 Chicken Noodle Souperole
4 chicken boneless skinless chicken breast ( used about 4 cups of cooked chicken I had in the freezer)
1 – 12 ounce package egg noodle
1 onion, chopped
2 cloves garlic, minced
1/2 cup carrots, chopped
1/2 cup celery, chopped
3 -4 tablespoons olive oil
1/2 stick butter (1/4 cup)
1 can cream of mushroom soup
1 can cream of chicken soup
1/2 cup sour cream
salt and pepper
1 tablespoon chopped fresh parsley ( I used 1 teaspoon dried)
1 cup crumbled saltines or butter crackers, optional
In a large pot of boiling water drizzle some olive oil and 1 tablespoon of salt. Boil the chicken until done. ( skip this step if using precooked chicken) Cook the noodles in boiling water. While the noodles are cooking cut up the chicken into 1/2 inch pieces. Drain pasta and set aside.
In a pot saute onion, garlic, carrots, and celery in the olive oil and butter. Cook until the onions appear translucent, add the mushroom soup, chicken soup, and sour cream. Mix well. Salt and pepper if needed. Add the noodles, chicken, and parsley. Stir until fully coated. Transfer to a greased 2 1/2 quart baking dish. ( I used a 9×13 pan) Bake at 350 for 40 minutes or until bubbly. ( Mine took about 30 minutes) If you are using crackers remove from oven and sprinkle with crackers and bake 5 – 10 more minutes.
For more great recipes and tips see Tammy's Kitchen and Tempt Your Tummy Tuesday.