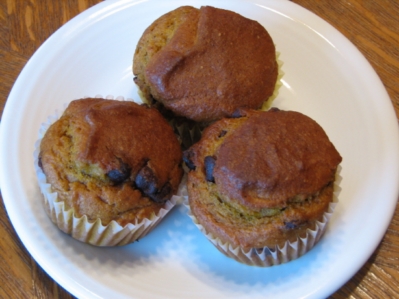 This is a perfect fall muffin.
We really like pumpkin desserts in our house. One of the things I love about fall is fixing foods that contain pumpkin. These muffins are one of our favorites.
I found this recipe on allrecipes several years ago. I have made it many times because my kids love them.
My daughter likes them so much she wanted them two years ago instead of a birthday cake. I decided to make them into a cake. I doubled the recipe and made it in a 9×13 pan and used cool whip as the frosting. She thought it was great. It was good, but our favorite way to eat them is as muffins.
This week I decided to try and make these a little healthier, so I used some whole wheat pastry flour in them. It worked really well and no one complained about the whole wheat in them. In fact, no one said anything about them being different. I made a double batch of these and sent some to work with my husband. The kids and I also had them for breakfast.

Pumpkin Chocolate Chip Muffins
3/4 cup white sugar
1/4 cup vegetable oil
2 eggs
3/4 cup canned pumpkin
1/4 cup water
1 1/2 cups all-purpose flour ( I used 1/3 whole wheat pastry, and 2/3 regular flour)
3/4 teaspoon baking powder
1/2 teaspoon baking soda
1/4 teaspoon ground cloves
1/2 teaspoon ground cinnamon
1/4 teaspoon salt
1/4 teaspoon ground nutmeg ( I leave this out because my husband doesn't like nutmeg)
1/2 cup semisweet chocolate chips
Preheat the oven to 400 degrees F. Grease and flour muffin pan or use paper liners.
Mix sugar, oil, eggs. Add pumpkin and water. In separate bowl mix together the baking flour, baking soda, baking powder, spices and salt.. Add wet mixture and stir in chocolate chips.
Fill muffin cups 2/3 full with batter. Bake in preheated oven for 20 to 25 minutes.