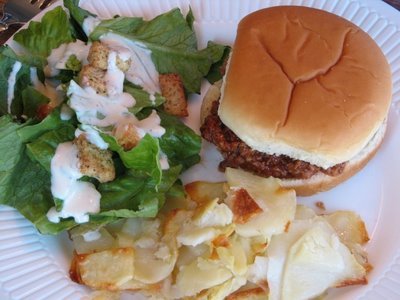 Today was one of those days that I was glad for freezer meals. I had planned on making a pork roast in the crockpot. Well, I did not get it done. I had a Dr.'s appointment, my daughters' piano lessons and knitting class, and a trip to the library. For some reason between all that I did not have time to get a meal in the crockpot.
Instead, I picked up some hamburger buns at the store and then took sloppy joes out of the freezer. I served it with salad and potato chips. It was a nice easy meal after a busy day.
Days like this are why I continue to do freezer meals. I always try to have a couple of meals in the freezer. It is so much healthier and less expensive to use a freezer meal than it is to eat out. If you have never tried freezer meals you should give it a try. It will save you time and money.