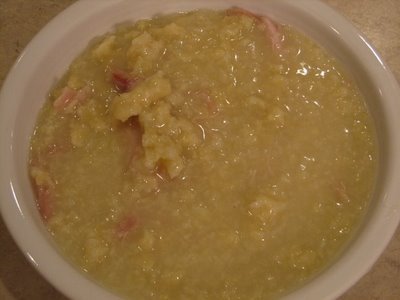 What is Dutch Rivel Soup? This is a soup my mother in law and her family have been making for years. I am not sure where the recipe came from, but I am guessing that it originated in the NE area of the US, therefore the name Pennsylvania Dutch Rivel Soup.
This soup is about as simple and frugal of a soup as you can make. It is definitely an old fashioned recipe. This is from a time when meals were simple, but hearty. A time when the cook used everything and wasted nothing.
This soup in similar to a southern dumpling recipe. I know all you true southerners are probably yelling, it is not! It is nothing like a dumpling. But yes, it is the same idea.
In this recipe though you use eggs in the dough. I have never seen a southern dumpling with egg in it, maybe there is a recipe out there, but not that I have seen. This is also has a little smaller of a "noodle" in it than a dumpling. It reminds of dumplings because of how it thickens up. In my opinion this is better and easier then dumplings. But what do I know, I came from the OR, the land where dumpling and Rivels are not known.
The recipe calls for chicken broth, but I made it with my turkey broth. It is good both ways. If you use homemade broth I suggest adding some salt to it to give the final product a better flavor. I also like to put a little meat in this. Yesterday I used turkey but you can also use chicken. For the most frugal and easiest version leave out the meat. If you want a heartier soup add the meat.
Pennsylvania Dutch Rivel Soup
2 cups flour
1/2 teaspoon salt
2 eggs, well beaten
6 to 8 cups of chicken broth (if you want it thick use 6 cups, if you want it more soup like use 8 cups)
Combine flour and salt. Gradually add beaten egg while stirring flour with a fork. Mixture will be crumbly and look like this.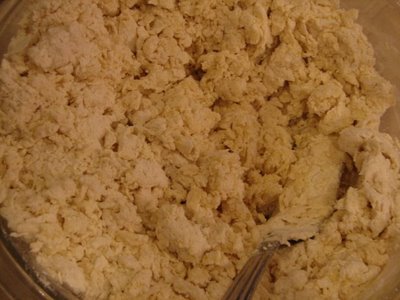 Boil broth and pour mixture gradually into broth.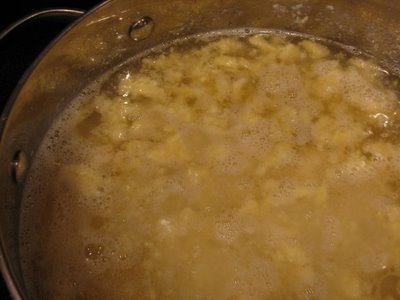 Turn heat to low and cook for about 10 minutes. The rivels start to look like large rice or noodles in the broth. I usually taste test at about 8 minutes to see if they are done. They have a similar consistency to dumplings. I had the meat at the very end. Ladle into bowls and enjoy!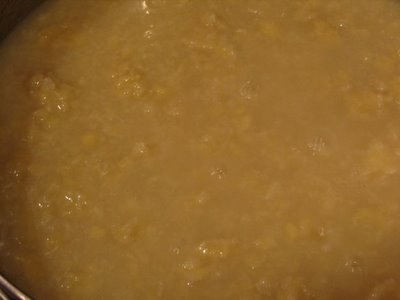 This post link to Vintage Recipe Week.