My family knows that I love to cook and that I enjoy getting new gadgets and tools for the kitchen. My family usually gives me things that are kitchen or food related.
This year my sisters and mom sent me a box with some fun food stuff in it, like dough enhancer, vital wheat gluten, and old fashioned tapioca. You see my family lives close to Bob's Red Mill and my sister knows that I love their stuff and I did.
She also sent me one of these.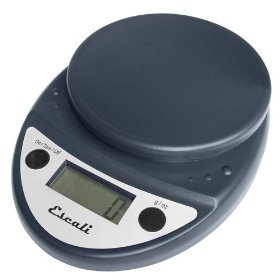 A digital food scale. Serious bakers say you make the best bread and bakery items by weighing your ingredients, not by using cup measurements. A lot of cookbooks, especially European ones, call for the weight of things like flour. I have thought it would be fun to have one of these, but never wanted to buy myself one. So, thanks Flo I love my gifts.
My husband also got me some kitchen things. One of the things he got me was a really nice knife. We are trying to collect a few of these slowly. We have always had pretty cheap knives. It has never been a priority to buy expensive knives and nice sets of knives are expensive. We finally decided last year to buy one or two nice knives and then maybe occasionally buy one to add to it. Who says it has to be a matching set? This has been so worth it. I now have three or four really nice knives. I love them. I should have done this years ago. I would much rather have one or two nice knives, that cut really well, then a whole set of cheap ones. I never realized how much of a difference nice knives would make. Believe me it really does. Chopping is so much easier and you really do cut yourself less. I love my new knife, thanks Matthew.