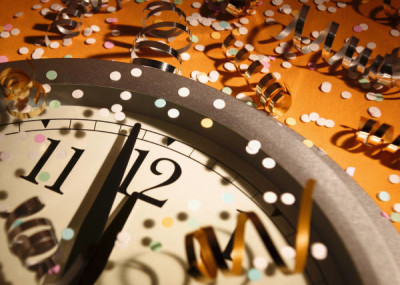 Looking Back at 2009
I don't know where 2009 went. It does not seem like it should be the year 2010 already. I don't like New Year's Resolutions, and I never do them. I do think though that the start of a New Year gives us a good chance to look back at the last year and evaluate all we did and did not do. It also is a good time to look ahead and plan what we want to accomplish or change in the New Year.
As I look back at my blogging over the last year I can't believe all the things that I have made, all the recipes that I have tried, the tips that I have learned, and all the things that have changed about my cooking. I have also made so many new blogging friends and discovered many new and wonderful sites.
As I look back at how my blog has changed over the last year, I can't believe how much it has grown thanks to you. You keep reading and commenting and coming back. I can't thank you enough for taking the time to read about my adventures in the kitchen.
There were two big changes to my site over the last year. First, I made the time consuming switch to WordPress, which was so worth it. I love WordPress. The second big change was the redesign by Joy at Five J's Design . It looks so much better and is much easier to find recipes on my site. I am so happy with the redesign.
The biggest change to my cooking has been going gluten free. In many ways this is changing how I cook, but I am continually amazed how at the same time it is changing very little about the way I cook. My goal has been and continues to be to cook healthy, home cooked meals and dishes for my family.
Over the last year I have been using Facebook which has been great for blogging. I made a fanpage for my site and have really enjoyed getting to know some of you and your friends through my fanpage. One of my goals for the new year is to use my fanpage more. I have been posting mainly about my blog, but I plan to also post other things on my fanpage. There is only so much I can write on my site, and there are many times that I wish I could share more. So, I plan to use my fanpage not only to share posts, but also to post extra quick tips, things I am doing in the kitchen, and other things going on in my life.
Looking Ahead to 2010
As I look ahead to 2010 I have many things planned for my site. The basics of my site will stay the same, yet I have a few things that I hope to add to my site.
Like many of you, my main goal in the kitchen right now is to get control of my grocery budget. I need to spend the next few weeks figuring out where the money will be spent, and how best to budget my groceries this year.
I have two series that I hope to start over the next few months. I am planning on doing a series on my favorite kitchen tools. Many of us have lots of gadgets and items we never use, but I would like to share the things that I love and use most in my kitchen. The second series will be one on kitchen terms and cooking definitions. I think this would be a good resource and learning tool. (Thanks Amy for the idea!)
I am slowly figuring out gluten free cooking. I don't plan on making gluten free cooking the main focus of my site. I want this site to be what it has always been. I want to continue posting recipes and ideas that everyone can use and make for their own families.
However, as I make more and more gluten free baked goods, I will want to share the recipes. To best balance these goals, I will post my gluten free baking recipes on the weekends. Those of you that are not interested in recipes with unusual gluten free ingredients can skip those posts, and those of you who are interested, will know I always post them on the weekends. I hope this will work out well for all my readers.
Another goals for 2010 is to get to know more of you better. I know many of you blog and use twitter. Many of you are regular commenters on this site, and I have not always taken the time to visit you. So, over the next few weeks and months I want to interact with you more. If you blog or use twitter, please leave a comment with your information so I can visit you.
What Do You Want To See
Now I want to know what would you like to see? More kitchen tips? Less kitchen tips? More quick and easy dishes or more desserts? My favorite cookbooks? As I plan my goals for my site in 2010, I would love to hear what you want to see on my site, so share your thoughts and ideas.
This post linked to Savvy Blogging.