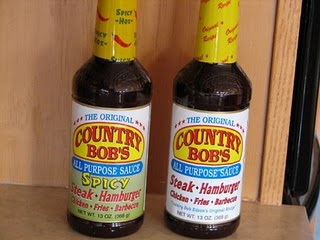 Country Bob's recently sent me coupons for 10 free bottles of sauce. We really enjoy their sauce, so I was thrilled to have free sauce. They asked that I keep a couple bottles for myself and that I pass the rest along to friends and family, so that they could try the sauce.
So, that is what I did. I went to two different Walmart stores and used nine of the coupons. I kept two bottles for myself, gave one bottle to a friend, and then took the rest of the bottles to my husband's work and passed them out to our employees. I then gave the last coupon to a friend for her to use.
A couple of the people had tried Country Bob's sauce before and loved it. But most had never tried the sauce and were looking forward to trying it.
We love Country Bob's Sauce. I tried it for the first time last year when they sent me two free bottles. We have enjoyed it a lot since then. You can read my review here.
To find out if Country Bob's is sold at a store near you, check their list here.
If Country Bob's is sold in your area, you can sign up to get your own free bottle of sauce here. All you have to do is fill out the information and Country Bob's will send you a coupon for a free bottle.
Country Bob's Sauce works for me.