Earlier this week when I posted my menu plan, I wrote about seeing how far I could make my pork roast stretch. Well, I was able to get four meals out of it and my family enjoyed all four meals.
My goal in doing this was for time or my lack of time this week. I knew I had a couple of really busy days and I wanted to have dinners that I could put together easily and quickly. Cooking up a lot of meat at one time and serving it for several days saves me a lot of time.
Not only does it save time, it saves money, because I use up all the meat, even the last little bit that I had at the end. Cooking meals like this is also saves money because meat is usually not the focus of the last meal or two, it is only a small part of the meal. This makes a meal or two much cheaper to prepare.
When I serve three or four meals using the same meat, I do make sure to serve it in different ways. My family, especially my husband, does not want to be served the same thing over and over. So, I have to come up with creative ways to make the same meat seem different every night.
Here is how I fixed all four meals.
I cooked about 4 lbs of pork in the crockpot with barbecue sauce. I than shredded the meat and added some more sauce to it. I then took out enough for the first meal. This is part of making it stretch. If I set a big bowl of meat in front of my family they tend to eat more meat and less of the other foods. Then the meat won't go as far as I want it to. So I put on the table about the amount I think we need for that meal.
For the first meal we ate it as barbecue pork on hamburger buns, so basically pork sandwiches. I served it with potato salad and vegetables.
The second night I had planned on cooking it different, but we ended up again having it has sandwiches, but this time with chips and fruit.
The third night I served it on baked potatoes.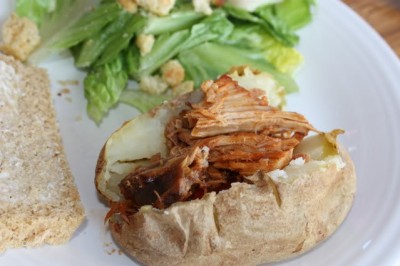 We like shredded barbecue meat on baked potatoes. Several barbecue restaurants near us serve a dish like this and we really like it. So, we have learned to do our own version at home. I served this with bread and salad.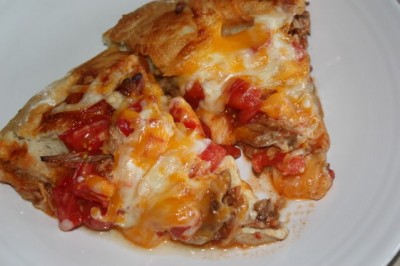 The fourth night I had less than 2 cups of meat left. Not enough to do much with, so I made a barbecue pizza with it. Instead of using pizza sauce, I spread barbecue sauce on homemade pizza dough. I spread the meat on top of that and then also put chopped tomatoes on it. I then spread colby jack cheese on it and baked it. This made a great meal using only a little amount of meat.
So what tips do you have for making meat stretch for more than one meal?
For more frugal ideas and recipes see Frugal Friday and Grocery Cart Challenge.