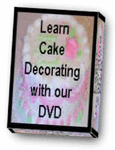 Contest ended see here for the winner.
Kathy at Teaching Good Things recently sent me her Cake Decorating DVD to review.  I was really glad to be able to review this DVD.  Cake decorating is not something I am good at.  I would much rather spend my time making a cake taste good than I would decorating it.  I usually just frost my cakes and forget the decorating part.
However, my girls have shown some interest in cake decorating. They thought it would be fun to be able to decorate cakes.  I don't have the knowledge to teach them in this area, so I thought a DVD would be a great way to introduce them to it.
They loved this DVD. They have now watched it twice and are so excited to learn and practice cake decorating.  This DVD gave simple and easy to follow directions.  Kathy does a great job of explaining how to do things.  She covers everything from how to make the best frosting for decorating, to making leaves and roses, and she also gave tips for writing with frosting.  She tells you what tools work best for what, etc.  I even learned some tips for frosting a cake and getting the frosting smooth.
My girls were really excited to practice what they had learned.  Last Saturday I made up some frosting in pink and green and gave them several bags and tips to practice with.  I set out a couple of sheets of parchment paper and let them practice all they wanted.  They spent quite awhile having fun with the frosting.  They did not make any masterpieces, but they did great for their first time.  Especially considering they are only 9 and 11 and I did not help them.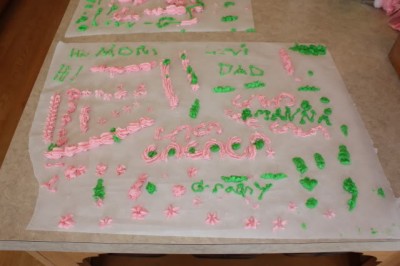 Overall I really liked this DVD and think it would be a great intro into cake decorating. I think it is a perfect DVD for teens and young girls interested in this area.
Kathy not only sent me a DVD to review, she is offering one for me to giveaway.  Leave me a comment describing your cake decorating skills.  Are you like me and need this because you have no skills in this area?  Or do you have some talent and just want to learn more tips and ideas? Or do you think it would be a great way for your kids to learn how to decorate cakes?  The giveaway ends Friday Septmeber 4, 2009  at 8:00 PM.
Kathy is also offering my readers a discount on her Cake Decorating DVD .  She is offering it for only $18.97 and when you order you will receive a free e-book. She will offer this discount through September 13, 2009.  You can read the details and place your order here.
Kathy also has some other great DVDs and e-books on her site worth checking out.