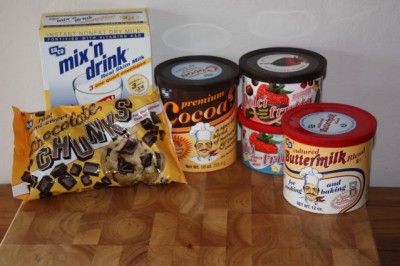 Contest ended and winners are posted here.
Back in August I posted about buttermilk and why I liked to keep it on hand to use in my cooking. After that post I was contacted by SACO Foods about their buttermilk powder and other products. They wanted to let me know about their buttermilk powder and why it works so well. They explained why store bought buttermilk is not real buttermilk and how their product is. You can find more information here on that. I love the science behind food and found the information very interesting and helpful.
They sent me a box of their products to try. I was very surprised to learn that they make more than just buttermilk powder. They sent me chocolate chunks, chocolate and white chocolate dolci frutta, powdered milk, cocoa and an apron.
When I first saw the chocolate I was not sure what to think because I am kind of picky about the chocolate I use for my cookies. I decided to give the chocolate chunks a try in my favorite cookie recipe. They turned out really well. This chocolate was really good.
The Dolci Frutta is chocolate that you melt to make a chocolate dip for fruit. I had intended on buying some strawberries and other fruits to use this for, but my kids needed something to do one Saturday afternoon, so I let them give this a try.  They loved it. It was so easy for my girls to use. We melted it in the microwave and they dipped pretzels, marshmallows, and bananas in it. They had a great time and were very happy that they had made something we could snack on during a football game. I am definitely going to have them use this again. The pretzels dipped in the chocolate was everyone's favorite. I think these chocolate dipped pretzels would be a great treat for my girls to make around the holidays.
I have actually used the powdered milk before and liked the product. I used the cocoa in a cookie recipe, and it also had really good flavor.
The buttermilk powder I tried in several things, and I think it is a good product to keep on hand. Especially for those of you who don't use much buttermilk. This is an easy way to use buttermilk without having to buy it regularly. I think this would work well for people like my parents who don't have a large family that they are cooking for and only use buttermilk occasionally.
One of the substitutes that people use for buttermilk is milk and vinegar. One of the things that I have not liked about that trick is it is not as thick as buttermilk and does not taste as good as buttermilk. I used the SACO buttermilk powder in several things, and I really liked the taste. I used it in a soup that turned out really well. I also used it in an overnight biscuit recipe (will post that soon) that I have made many times. It worked well in both of these. In pancakes, however, I found it to be too thin, but I fixed that by just adding a little less water to it.  With this one change, it worked fine, and it had great flavor.
According to SACO foods buttermilk powder is also a great addition to bread products and here is why.
Buttermilk is a wonderful ingredient for baked goods.  Breads rely so much on structure to be a good loaf, which is why they benefit so much from having Buttermilk in them.  The liquid buttermilk in today's dairy case is merely cultured skim milk, with no real buttermilk actually in it.  Although today's liquid buttermilk is a suitable substitute for the old-fashioned real buttermilk, it is not the best.  Saco Buttermilk Blend is real buttermilk.  Real buttermilk contains emulsifiers that help give baked goods much more tender with better structure.  Emulsifiers help bind the ingredients together, for better blending, and overall better results.
I have yet to try the buttermilk powder in my bread products, but I hope to soon.