I had a busy weekend. I attended the Blissdom Blog Conference and had a great time. I met so many great bloggers. I knew many of them from their blogs and twitter, but it was so fun to meet them all in real life. I learned so much just from the conversations that I had with all of them.
I will never be able to name all of the people I met at Blissdom, but here are just a few of the great bloggers that I met.
I met  The Happy Housewife, Crystal from Money Saving Mom, Jessie, Jen from Frugal Upstate, and Jen from Beauty and Bedlam. I finally got to meet Joy from Five J's who was one of my first regular readers and who is my great blog designer. I was able to share a room with Jessica from Life as Mom, and we had so much fun. We stayed up way to late talking food, blogging, family, and many other things. Jessica's blog was one of the first blogs that I read regularly, so it was fun to finally meet in real life.
I was also able to meet some great food bloggers. I spent quite a bit of time with Erin of $5 Dinners. We talked food, blogging, photography, and food allergies. She was so nice and took time to answer my questions. Not only that she has the cutest and sweetest baby boy, who was so good all weekend.
I met Kate from Stolen Moments Cooking. We could have spent hours talking food and brainstorming new ideas together. I also met Christy from Southern Plate. I ate lunch with Christy on Saturday, and I wish I had been able to talk longer with her about southern cooking. She was so much fun and is a wealth knowledge on southern style food.
This was the first time I had left my family for that long. My husband and kids did a great job and I came home to a clean house and laundry done. One of the best parts of coming home was my son. When I left, he became a tough 7 year old boy and he informed me that he would not miss me at all, which made me a little sad. Well, as soon as my son saw me he told me that he DID miss me. I knew he would, but it was nice to hear him say it. I had a great weekend and learned a lot, but I missed my family and it is so nice to be home.
Now, I am back to real life and catching up on things. I am trying to keep it simple this week while I catch up on things. So, here is the plan.
Dinner
breakfast for dinner
enchiladas with homemade enchilada sauce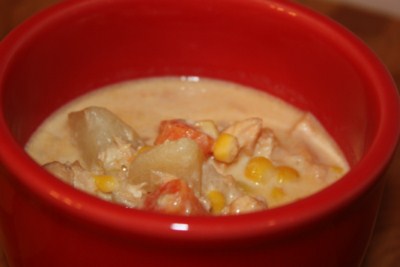 salmon chowder (recipe coming tomorrow)
tuna skillet dinner
pork stir fry with green beans
chicken and rice soup
freezer meal
For more meal planning ideas see Menu Planning Mondays.