CONTEST HAS ENDED!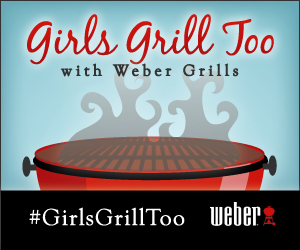 I love to grill. In fact we grill almost year around.
I know that grilling has the image of being a "man's" job, but in our house I do almost all the grilling. My husband just does not have the time to spend cooking dinner on the grill, so he turned that job over to me quite a while ago.
It is actually a job I enjoy, and I found out that once I did the grilling, we used our grill a lot more.  It makes cooking so much easier during the summer months.
I love to cook, but I do not love to turn on the oven and heat up my house during the summer. Grilling is the perfect solution.
We not only grill steak, hamburgers, and hot dogs, but we love to grill pizza, vegetables, and quesadillas. Now that I use my grill all the time, I can't imagine not having one.
When I was contacted about working with Weber on the Girls Grill Too campaign I was thrilled. I love to grill, and I love sharing my grilling ideas and tips with all of you.
Not only do I love to grill, I love Weber. I am very familiar with their products and recipes. They are known for their excellent products and service.
Two of my favorite cookbooks to use during the summer months are the Weber Grilling Cookbooks.
Weber also has a great resource on their website called Weber Nation. It is full of recipes, ideas, tips, and even online classes. If you love to grill or would like to learn more about grilling you should check Weber Nation out.
So, are you a "girl that likes to grill"?  Would you love to win one of these?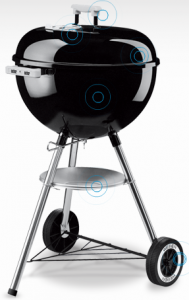 A Weber One Touch Silver Charcoal Grill
Weber is giving away a One Touch Silver Charcoal Grill to one of my readers.
Giveaway Details:
One entry per person, per method of entry, per day. Be sure to enter a separate comment for each method of entry (one comment for Facebook, one for twitter, etc.) This way you will have a higher chance of winning. ( If you are reading this through email you must click here to enter. Replying to this email will not get you entered.)
Ways to enter:
1. Leave me a comment telling me why or what you like to grill.
2. Subscribe to my updates. If you already subscribe to my updated leave a comment letting me know.
3. Follow Girls Grill Too and/or Weber Grills on Facebook.
4. Follow Lynn's Kitchen Adventures and/or Weber Grills on Twitter and tweet:  Hey!@lynnskitchenadv is giving away a Charcoal Grill from @webergrills. Stop by to enter. http://bit.ly/lka-ggt #girlsgrilltoo #grill
Giveaway will end Monday July 5th, 2010 at 6:00 pm.
5. Four other bloggers are also giving away one of these grills. So, for more chances to win stop by and enter at:
Disclosure: I was given a Weber smoker for being part of this campaign, but these are my honest opinions.