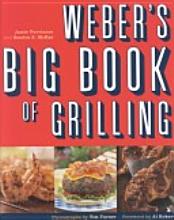 I love Weber's grilling cookbooks. I have owned Weber's Real Grilling
and Weber's Big Book of Grilling
for several years. I purchased them long before I was asked to participate in the Girls Grill Too campaign.
When it comes to grilling I find that Weber's recipes work best. It makes sense that a company that makes grills, would know so much about what cooks best on a grill.
If you like to grill, I highly recommend Weber's cookbook. I think they are well worth the money.
I have also discovered that Weber has many free recipes and ideas on their website. So, if you are looking for some great grilling ideas for the 4th of July weekend or for the rest of the summer you should check these links out.
These are all free downloads available from Weber.
The Girls Guide to Grilling looks like it has some great ideas in it.
Are you looking for some healthy grilling ideas? Then the Grilling What's Good For You would be great.
Do you need to improve your Grilled Steak? I know I do and there are a lot of great tips in this one.
They also have one just on grilling tips.
And I am really looking forward to getting a new recipe from Weber each week. All you have to do is sign up for their recipe of the week.
And don't forget to enter my giveaway for a Weber One Touch Charcoal grill.
Disclosure: I received a Weber Smoker for participating in the Girls Grill Too campaign. However, these thoughts and opinions are my own. I have used and loved Weber recipes for years.