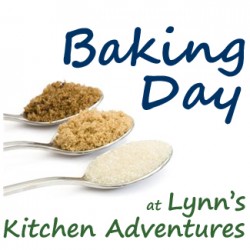 Today for Baking Day I thought I would post some of the great fall recipes that I have seen around the Web.
Amy has put together over 100 links for pumpkin recipes. She has links for breads, desserts, main dishes, breakfast ideas, and more. This is a great list to look over if you are needing some ideas for the upcoming holidays.
Tina from Mommy's Kitchen posted a recipe for Apple Fritters last week that looks so good. My husband loves apple fritters, so he would really enjoy these.
I love to make cinnamon rolls and have made them many times. They are one of my favorite things to bake. Katie at Good Life Eats posted a recipe for Pumpkin Cinnamon Rolls recently that would make a perfect fall treat. Not only do her cinnamon rolls sound so good, her photos are amazing.
My kids would really love these English Muffin Breakfast Pizzas by Our Best Bites. They would be a perfect way to start the day.
Myra recently posted a recipe for a simple Apple Crisp. This would be so easy to make and would be perfect with a scoop of vanilla ice cream.
What fall recipes have you been baking lately? I would love to hear what fall treats you have been making for your family.