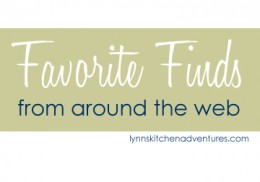 Here are a few of my favorite finds from around the web.
My friend Toni is giving away a free ebook this month. If you have a picky eater in your family than this Guide To Picky Eaters is for you.
Food Your Way has some free printable recipe cards that I love.
It is no secret that I love Bob's Red Mill. I grew up not far from the Bob's Red Mill headquarters in Oregon, and I try to visit their store when I am in Oregon. In fact whenever we drive to Oregon, I haul quite a few pounds of products back to Oklahoma with me. I have used and loved many of their flours and other products over the years. They recently posted some tips and information on adding whole grains to your diet. If you are trying to eat healthier and use more whole wheat and whole grains in your diet, this is a great article. (If you are gluten free, Bob's Red Mill also has a lot of gluten free information on their site.)
I love using fresh ginger. I even posted how I froze my ginger, however I think Reluctant Entertainer's way of freezing it might work a lot better and I can't wait to try it.
In the blog world we only see a small picture of someones life. Things may look perfect and happy, but we are all normal. We have the same struggles. We all deal with similar issues and no one can do it all. Which is why I loved Stephanie's honesty her in recent post about doing it all. The fact is none of us can do it all and her post is just what I needed to read to remind me of that.
What good finds have you found this week?