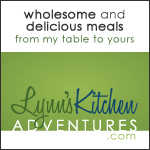 Three years ago this week, I started Lynn's Kitchen Adventures.
I have enjoyed the last three years here at Lynn's Kitchen Adventures more than I ever imagined I would. I love sharing kitchen tips, recipes, and ideas of how I combine my love of cooking with a busy life.
When I started my site in 2008, I named it Lynn's Kitchen Adventures, but I had no idea the adventures in the kitchen that were before me.
This is common in life, we can not see ahead, we take each day and moment at a time.
We face the challenges as they arise. We learn to adapt and adjust as needed, but we do not forget the past while adapting to the future. This site is no different. My life in the kitchen has changed in many ways over the last three years, and I have shared much of this journey with you.
Over the last few months I have received many comments and emails from newer readers about the recipes and ingredients that I have on my site. I thought as a way to mark the third birthday of my site, I would address some of these issues in a post about my life in the kitchen over the last three years.
Many of my long time readers know my story, but many of my newer readers are not as familiar with my family and our more recent challenges and issues with food. So, here is my cooking journey from the last three years, condensed as much as I could into one post.
I began blogging in February of 2008 as a way to keep a cooking journal. It was a way to keep track of recipes and ideas that I was trying in the kitchen.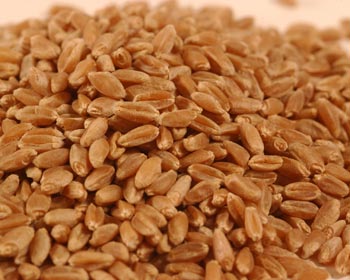 Shortly after I began blogging one of my daughters was diagnosed with severe asthma. This diagnosis started me on a journey of using more whole grains, grinding my own wheat, and getting rid of many the the cleaners and chemicals we used in our home. I shared these issues here on my site, and I shared the recipes as I was adapting them.
Little did I know though that in trying to make my daughter healthier, by giving her more whole wheat and whole grains, I was actually damaging my own health.
I have had health problems my whole life, but in 2009 I really began to crash. I had to find some real answers to my problems. In the fall of 2009 I was diagnosed by my GI doctor, with a gluten intolerance. This diagnosis started me on my journey of gluten free eating and in the process has made me more healthy than I have ever been.
In the process of my eating gluten free, my family began to eat less gluten and more like I was eating.
With these changes my daughter with asthma started to have marked improvement in her health. The differences were amazing, and she began to also eat gluten free. Currently in my family we have several eating gluten free and several that eat a normal diet.
My adventures in the kitchen continued when in early 2010 my oldest daughter was diagnosed with a severe nut, peanut, and sesame allergy. At this point we had to totally adjust what we ate and how we looked at food. My issues with gluten are an intolerance, but my daughter's allergy could threaten her life. I had to begin the journey of reading every label and ingredient that came into our house.
Yes, the last three years have been a true adventure in my kitchen. Looking back I realize that the name of my site is perfect, because not only have I had a kitchen adventure, but I have been able to share this adventure with you. I have shared not only the recipes and tips, but the ups and downs of my kitchen life. And all those recipes, tips, and ideas still have a place here on my site.
I currently have three years of archives that are full of recipes and ingredients that I made for years, but can no longer make due to our food challenges. I have many recipes for bread, cakes, cookies, and ones that contain nuts or peanut butter. Many of these are recipes I rarely make or cannot make at all due to our current food challenges.
I have never felt the need to delete those archives. I no longer make many of those recipes, but I still want to share those recipes with you, so that you can enjoy them.
I love sharing recipes, kitchen tips, and ideas that make life in the kitchen easier. My goal is to continue to do that, both by posting new recipes and ideas, and by leaving all my old recipes in the archives the same.
I do not want food allergies to be the focus here at Lynn's Kitchen Adventures.
That is why I started a separate allergy section and that is why I have had my sister posting some of her favorite recipes, and that is why I have left all my old recipes in my archives the same.
My life in the kitchen is so much more than food allergies. I hope the information I share will benefit all my readers, not just those dealing with allergies. Life with allergies is challenging, but in the end whether or not we have issues with certain foods, we all have the same goal.
We are all striving to save time and money in the kitchen, while feeding our family healthy home cooked meals.
I want to continue to do what I have always done. I want to help make your life in the kitchen easier by sharing recipes, tips, and ideas with you.
And I want to thank each and everyone of you that come back day after day to read my recipes and ideas. You help make this site what it is and I am very grateful that you follow along on my adventures in the kitchen.
Stay tuned for a great giveaway later in the week to help celebrate three years of Lynn's Kitchen Adventures.