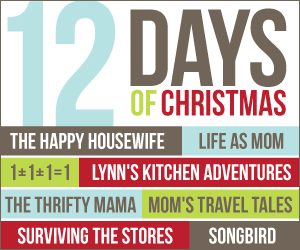 For the next twelve days I will be teaming up with some great bloggers for a twelve days of Christmas series. It will be twelve days of Christmas fun.
I will be covering food, so over the next twelve days I will be sharing twelve recipes that are perfect for holiday baking and cooking. Coming up later today I will be sharing, homemade nestle crunch bars, perfect for holiday candy making.
Be sure to visit the other bloggers in this series. We are covering some great topics all related to Christmas. We will cover decorating, homemade gifts, money, healthy holidays, travel, family fun, homeschooling, and of course food.
We can't wait to share all these ideas with you over the next twelve days. We hope you enjoy the series.
Christmas Homeschool Fun: 1+1+1=1
Christmas Decorations: Songbird
Tips for a Healthy Holiday: The Thrifty Mama
Saving Money: Surviving the Stores
Travel Tips: Mom's Travel Tales
Christmas Family Fun: Life as Mom
Homemade Christmas Gifts: The Happy Housewife