This post is a little unusual for me. It is all about books and reading.
But I figured that if I shared my plan with you all, and keep you updated on my progress, it might keep me accountable. I mean, if I am checking in a few times throughout the year, maybe, just maybe, it will help me stay on track.
You see I love to read. I mean really love to read. I can easily get lost in a book and lose all track of time. I have loved to read for years and used to read several books a week, sometimes more.
And I am not talking just fun and easy reading books, I love to read books about history, biographies, Christian books, books on health, food, cooking, really all kinds of books.
The problem is that over the last year or so, I have stopped taking the time to read. The other day I sat down to look at the books I had read in 2011 and it was very disappointing to discover that besides my Bible reading, I only finished ten books, and most of those were read sitting in Dr. offices or on an airplane when I was traveling.
Now, for some ten may seem like a lot or even a good number, but for me it was a disappointment. I love to read and find it relaxing and enjoyable and ten books is not enough. I miss it.
It made me realize that busy schedules, blogging, cooking, kids, etc. have taken over the time that I used to set aside for reading. Now these things are all good things, but so is reading. So, this year I am determined to read at least two books a month. That is twenty-four books for the year and that seems like a very doable number.
My plan is to set aside twenty minutes each day for reading. For the last few days I have set the timer for twenty minutes and read for the full time. It has made such a difference for me and I really hope to continue this throughout the year.
So today I thought I would share a few of the books I plan to read. Now, I have quite a few books in my to read pile for the year including a few biographies and some home school parenting type books, but I decided today to share just the food and business themed books that I plan to read.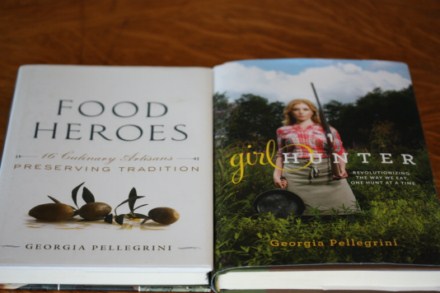 Food Related Books
Last year on a trip I started reading the book Food Heroes: 16 Culinary Artisans Preserving Tradition
by Georgia Pellegrini and loved the few chapters I read, but then life got busy and I never finished the book. It is now in my must finish in 2012 pile.
And then ever the holidays I started reading the book Girl Hunter,
also by Georgia Pellegrini, and loved it. I cannot wait to finish it. I am guessing that this is the book I will finish first in 2012, because I am really enjoying it.
I grew up with a dad that hunted. Most of my dad's friend hunted. I married someone that loves to hunt and my son and fourteen year old daughter both got a deer last year. Hunting has been part of my life for years and I can't wait to finish this book.
What Einstein Told His Cook: Kitchen Science Explained
and What Einstein Told His Cook 2: The Sequel: Further Adventures in Kitchen Science
have been in my to read pile for several years now and I really want to finish at least one of them this year. I love kitchen science and have picked up these books a few times to read and this is the year I am determined to finish one of them.
Business Books
Knockout Entrepreneur
is a book I picked up used a few months ago and it looks like a book I will enjoy. Over the last few years I have read quite a few business type books like this and loved them.
I have read both Pour Your Heart Into It
and Onward
which are about about Starbucks and how it became what it is. I read My Life in France
about Julia Child and Rubies in the Orchard
about POM Wonderful. And also Success Made Simple: An Inside Look at Why Amish Businesses Thrive. All these are books I loved and learned a lot from.
I think you can learn so much about business and life by reading books like these. Successful people do not become successful overnight. It takes hard work, long hours, trial and error, and failures along with successes. I often don't agree with everything in these types of books, but I find the stories about how they got to where they are fascinating. You can learn so much about leadership, running a business, and just over all life skills in these types of books. This year I am thinking about tackling the Steve Jobs
book, but at over 600 pages, I am not sure if I will get it done or not. I also hope to read It's Not About the Coffee
, which is another book about Starbucks.
If you have read any books like this I would love to have some recommendations. I need a few more good business type books like this to read this year, so please leave a recommendation in the comments if you have one.
Misc. Books
Also on my list are How to Eat a Small Country
( I picked this one up used and it looks interesting) and Six Pixels of Separation (This one was recommended to me by Erin of $5 Dinners almost two years ago and I am hoping to finally read it this year and am hoping that the information in this one is still relevant. 🙂 I really should have read this a while ago….  )
Books By Bloggers
I also have a few books by bloggers on my list. I hope to read Saving Savvy
, All In Good Time
, and The Money Saving Mom's Budget
which all look very good.
So, now I would love to hear what you are reading. What books do you have in your must read pile and what do you recommend? And am I the only one that struggles to find the time to read?
Joining me on this journey of setting goals and a New Year, New You is:
So be sure to follow all of us over the next few weeks as we share ideas and challenges for starting the New Year!
Disclaimer: This post contains affiliate links. Thank you for supporting this site.