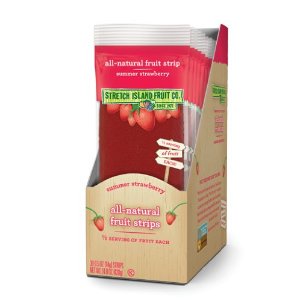 Several years ago I discovered Stretch Island Fruit Leather
and ever since then they have been a favorite snack for my family. They make a great on the go type snack or  a healthy addition to a lunch or breakfast.
Since they are quick and easy to grab and are healthy, I do not feel bad giving them to my family to eat.
And they are 100% fruit, so they are perfect for those that eat gluten, nut, and peanut free.
I know in some areas Stretch Island Fruit Leathers are easy to find, but in my area they are hard to find and are quite expensive when you do find them. So, my go to place to buy them now is Amazon.
And right now Amazon has several flavors of  Stretch Island Fruit Leather 
for only $11.99 a box and for only $10.19 if you choose subscribe and save. Right now I have several flavors on subscribe and save so that we always have some on hand.
The favorite flavors in my house are the strawberry, raspberry, and the apple, but we really enjoy them all.
How many of you have tried Stretch Island Fruit Leather