I found some good deals on  a couple of cookbooks on Amazon
today, and a few free Kindle ebooks, that I wanted to be sure to share with you all. I know many of you love cookbooks and free ebooks as much as I do.
Amazon currently has The Gourmet Cookbook: More than 1000 recipes
 for only $7.19. That is a great deal. I have this cookbook and love it. It has over 1000 pages and has some great recipes in it. And I can tell you that mine cost than $7.19. This would be a great cookbook to give as a gift for someone who loves to cook.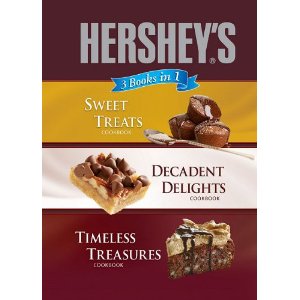 I also saw that Amazon has the Hershey's 3 Books in 1: Sweet Treats Cookbook, Decadent Delights Cookbook, Timeless Treasures Cookbook
 for only $5.19 which is a great deal. I do not have this cookbook, but I do have another Hershey's Cookbook that is full of great recipes. If you love chocolate, I am sure you will find recipes in this one.
Now for some free cookbooks for your Kindle and if you don't have a Kindle Amazon has some information on Reading Apps
 for you to use.
If you have food allergies the The Everything Food Allergy Cookbook
 is free on Kindle right now.
Do you love Gooseberry Patch? Their Circle of Friends Cookbook 25 Brownie & Bar Recipes
 is free right now for you Kindle.
Do you have a garden or have you ever wanted to start composting for your garden? You might find this ebook on composting interesting. Composting Inside & Out: The comprehensive guide to reusing trash, saving money and enjoying the benefits of organic gardening
Note: Prices on Amazon are subject to change and may not stay these prices for long.
Disclaimer: This post contains affiliate links. Thank you for supporting this site.