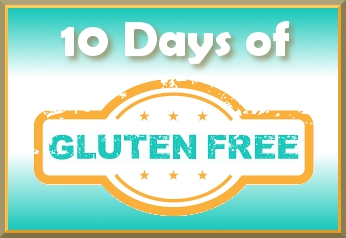 I have always dealt with food issues. It has not always been gluten, but growing up I had multiple issues with various foods that affected my family when I was a child.
Growing up my family ate a lot strange foods, and missed out on many foods, because of me. One of my sisters hated this fact and for years made known all the things that she missed out on because of me.
It was not really in a mean way, but a matter of fact way. She was not allowed some of her favorite foods because of me.
This made a big impact on me once my own family started dealing with gluten free and other food issues. I knew there would be changes in our family. I knew my son and husband would have to make sacrifices because my daughters and I were eating gluten free.
And to a point I think this is a good thing. Life is about sacrifices and giving to others.
My son has learned some great lessons in putting his sisters first when it comes to his wants versus their food needs, but at the same time I don't want him growing up resenting the way we eat.
So, I have tried to find a balance, which I will admit is not always easy, but it is something I am trying hard to do.
For birthdays we let my son and husband choose foods they enjoy. Yes, they are not always gluten free foods, but just as we try to make birthday specials for the gluten free child, we also try to make birthdays special for the non gluten free child.
We also keep a gluten filled cupboard in our house and I often let my son choose what goes in it. Yes, he often picks something not so healthy like a sugar filled cereal or a package of cookies, but this is our way of allowing him some of his favorite treats to enjoy and it has worked well for us.
What tips do you have for dealing with gluten free and siblings?
For more great gluten free information and giveaways please visit the other bloggers joining in on the 10 Days of Gluten Free.

Getting Started – Linda @ The Gluten-Free Homemaker

Resources – Wendy @ Celiacs in the House

Traveling – Karen @ Gluten-Free Travel Blog

Eating Out – Heather @ Gluten-Free Cat

Frugal Tips – Janelle @ Gluten Freely Frugal

Cooking – Carrie @ Ginger Lemon Girl

Baking – Jules @ Jules Gluten Free

Lunch Boxes – Tessa @ Tessa the Domestic Diva

Shopping – Laura @ Gluten Free Pantry

I hope you will join us for 10 Days of Gluten Free! GIVEAWAY OVER EMMA'S COMMENT ON THE PLAGHDOUGH POST WON. Winner chosen by Random.org
And here are the details for my giveaway.
I am giving away one $25 Bob's Red Mill gift card that is good for their online store and one copy of my Cooking 101 For Kids ebook to one reader. 
This giveaway is limited to U.S. residents 18 and older.
You are allowed one entry per "10 Days of Gluten Free" blog post for a total of 10 entries on this blog.
Enter by leaving a comment on this post (and other 10 Days of GF posts)
The giveaway begins May 7, 2012 and ends at 11:59 pm eastern time on May 18, 2012.
No purchase is necessary. Odds of winning are based on the number of entries. The winner will be randomly chosen and will be contacted by email. The winner will have 48 hours to respond. If the winner does not respond, a new winner will be randomly chosen.