It is no secret that I love cookbooks and that I have quite a few. I was searching Amazon last night for a few things and found some great cookbook bargains that I thought I would share with you. I even found some free ebooks and to keep it interesting I am including a few random thoughts at the end.
I discovered that Deen Bros Cookbooks at the library and really enjoyed them. Right now Amazon has their The Deen Bros. Cookbook
 for only $9.98. If you are thinking ahead for gifts, this is a good deal for someone that loves to cook.
Betty Crocker's Slow Cooker Cookbook
 is also a great price right now at only $5.84. If you are looking for some new Slow Cooker recipes or ideas that is a great price.
I have never seen the The California Pizza Kitchen Cookbook
, but since we love pizza this looks like an interesting cookbook for under $9.
I have mentioned the The Cook's Country Cookbook: Regional and Heirloom Favorites
 cookbook before, but this cookbook is a great deal. I have this cookbook and love it. And a 600 page cookbook for $13.98 is a great deal.
If you are looking for a kids cookbook this Pillsbury Kids Cookbook: Food Fun for Boys and Girls
 looks like a fun one for a good price.
Now for some free ebooks.
If you love Gooseberry Patch Cookbooks they are offering their Circle of Friends Cookbook – 25 Burger Recipes
 in the Kindle edition for free.
This quinoa ecookbook looks interesting and it is also free. The Quinoa Cookbook: Nutrition Facts, Cooking Tips, and 116 Superfood Recipes for a Healthy Diet
And if you are looking for some back to school ideas SMART SCHOOL TIME RECIPES: The Breakfast, Snack, and Lunchbox Cookbook for Healthy Kids and Adults
 is free right now.
And a few random things and thoughts.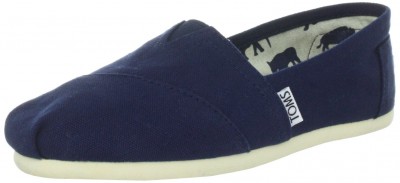 Yes, this is a food website and that is a picture of a shoe, which is why this would be called random thoughts. 🙂
I bought myself some Toms shoes
 when I was on vacation in Oregon earlier this month and I love them. I know many of you probably already wear and love Toms shoes and that I am a little late in trying them, but I am so glad I finally gave in and tried a pair.
I love these the most for just wearing around the house. Due to some knee and foot issues, that are nothing major but still something I need to be aware of, I know I need to wear shoes most of the time. And I really need to wear them at home where we have a lot of hard floor surfaces.
The problem is that I don't like to wear shoes when I am at home. I just don't find them comfortable. I usually kick them off when I sit down and then forget to put them back on. That is until I tried Toms Shoes.
These don't feel like normal shoes. They are so lightweight and so comfortable that it is more like wearing a slipper than a shoe, but they do not look like a slipper because they are a shoe. These are the first shoe I have consistently worn around the house without taking them off. I have worn these all day without feeling like I had shoes on. I love these shoes.
Who else has tried Toms Shoes and loved them?
Now remember those hot sticks for your hair that were so popular during the 1980's…….And yes this is a food site and we are talking hair. I said they were random thoughts……
Well I never thought I would be buying another set of those, but today I did. In fact I bought two sets. Don't worry though you will not find me using these. I used them enough in the the 80's to last me a lifetime. 🙂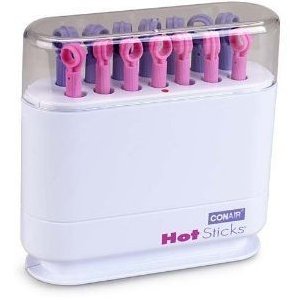 I bought these for my 12 year old daughter who has stick straight long hair, but thinks she should have been born with 1980's big hair. And not only does she have stick straight hair, it is the kind of hair that just does not hold curl well. However through a friend we discovered her hair curls well with hot sticks.
So here I am feeling like I am back in the 80's buying Conair Hot Sticks………Did you know you could even still buy these?! Does anyone else feel old with the 80's coming back in style?
And in 20 years when my daughter looks back at pictures and asks me why in the world she had curly hair when she was 12, I will be reminding her that she was the one that wanted to wear curly hair.  At least the curl from hot sticks only last a day, unlike the perm I had in the 8th grade that lasted close to a year and was the perm that seemed like it would never go away.
And on another note, have you ever noticed that we are never happy with our hair? She has straight hair and wants it curly. I now have very wavy/semi curly hair and I usually straighten it because I like it better straight. I guess we are never happy.
I hope you did not mind my cookbook/totally random thoughts post. Tomorrow we will be back to regular scheduled food topics.
Note: As always Amazons prices may not stay the same for long. And this post contains affiliate links. Thanks for supporting this site.