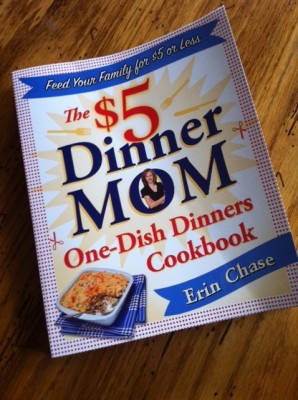 Today for Cooking Through My Collection we are going to talk about a new addition to my cookbook collection.
I was recently sent a copy of The $5 Dinner Mom One-Dish Dinners Cookbook
 to review. You all know I love cookbooks, so I love reviewing new cookbooks.
This is Erin's third cookbook and all three cookbooks are great additions to your kitchen, especially if you are looking for very budget friendly recipes. She is the $5 Dinner mom, so she focuses on meals that are under $5 each. So if you are not familiar with the $5 Dinner Mom, you need to be.
Her first cookbook, The $5 Dinner Mom Cookbook
, focuses on dinners, plus it gives you tips for couponing, meal planning, and more. Her second cookbook, The $5 Dinner Mom Breakfast and Lunch Cookbook
, focuses on breakfasts and lunches. I think we all need help in those areas and her cookbook has a lot of kid friendly breakfast and lunch ideas.
The $5 Dinner Mom's third cookbook, One-Dish Dinners Cookbook, is all about quick and easy meals that can be made in one dish. 
And this is the book we are talking about today.
Now, you all know I love quick and easy recipes. I think most of us want quick and easy recipes because we are all busy and getting a healthy home cooked meal on the table can be challenging at times.
The The $5 Dinner Mom One Dish Dinner Cookbook not only has quick and easy recipes, it can also help you put meals on the table without breaking the budget.
In this book Erin covers a wide variety of recipes and ideas. She has recipes for chicken, beef, turkey, and even a few for fish and seafood. There are pasta and pizza recipes and a few dessert ideas. And because they are all basically one dish meals, they are quick and easy to make and take very little clean up.
Now, I will say that the $5 price for each meal may vary for you. If you do not coupon, do not shop sales, or are feeding three hungry teenagers, your meals may not come out to under $5, but don't focus so much on the $5 part.
This book is about budget friendly meals, using mainly ingredients that you will have in your kitchen. So, even if the meal does not cost you exactly $5 to make, it will still be a meal you can make without spending a fortune.
Today, I get to share with you one of the recipes I tried recently from the book. One of the things I liked about this One-Dish Dinners Cookbook is how Erin adds vegetables to many of the recipes, which truly makes them a one dish dinner.
Not only does this save you time, it makes the recipes very kids friendly and this macaroni and cheese that I am sharing today is a great example of that. It is a great way to change up macaroni and cheese and make it a fun one dish kid friendly dinner.
And I apologize for the picture below. I had four hungry people waiting to eat while I was trying to take pictures and I did not have time to get a better one. I had thought I would get a picture of the leftovers, but there were none. Which tells you how much my family enjoyed this.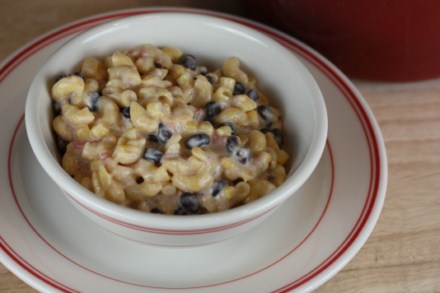 Southwest Mac and Cheese
1 pound elbow macaroni
1 cup sour cream
1- 10 ounce can diced tomatoes with green chilies, with liquid
2 cups cooked black beans ( I used canned beans that were rinsed and drained)
1-15 ounce can corn ( I drained mine)
2 cups shredded mexican cheese blend or pepper jack cheese
In a large pot cook macaroni as directed. Drain and set aside.
In the same pan you cooked the macaroni in, combine sour cream, tomatoes, beans, and corn.
Add drained macaroni and the cheese.
Stir until all the cheese is melted and everything is combined.
Serve and enjoy!
Note: I was sent a copy of $5 Dinner Mom One Dish Dinners to review, but my thoughts and opinions are my own.