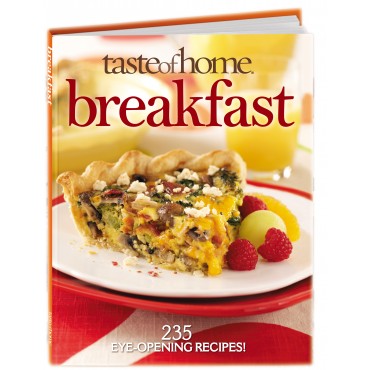 I have mentioned many times how much I love Taste of Home magazine and cookbooks. Taste of Home helped teach my sisters and I how to cook and their recipes are still some of our favorites.
The first two cookbooks that I owned when I got married were from Taste of Home. I started receiving Taste of Home magazine as a wedding gift in 1994 and I have subscribed to it almost every year since then.
Today November 5th,  through November 12th, Taste of Home is having their $5 Cookbook Sale. Yes, I said $5 and use the code LS126 to get free shipping on orders over $25.
That Breakfast cookbook above only $5.

This Ground Beef Cookbook, only $5. I own and love both these cookbooks.  
And they have many other cookbooks for only $5.
The last few years I have bough many of these $5 cookbooks to give as gifts and everyone loved them.
If you love to cook and find new recipes it is a great time to get some new cookbooks for yourself for a great price.
And think ahead for holiday gifts. For only $5 you would have a great gift for someone that loves to cook or for someone that is learning how to cook.
These cookbooks usually sell out pretty quickly so shop now for the best selection. And don't forget to use the code LS126 to get free shipping on orders over $25.