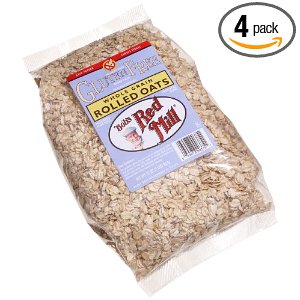 Gluten free and allergy friendly eating can be really expensive. Of course I think you all know that. It does not take long to realize that living with food issues tends to cost extra money.
Because I love to save money on my grocery bill, and I know that you all want to save money as well, I plan to share a few more deals here in my allergy section. Now, this will not become a deal site, nor will I be posting deals all the time, but when I see a really good deal I plan to share it.
Today, I wanted to share with you a really good deal on Amazon for Bob's Red Mill Gluten Free Whole Grain, Rolled Oats. Four 32 ounce bags of gluten free rolled oats for $15. And if you sign up for subscribe and save it is only $14.25 for 4 bags.
That is $3.75 or less per package and that is a really good deal for gluten free oats. My stock on gluten free oats is running low, so I just ordered some and will be glad to have a good supply for breakfasts again.
If you need some ideas for using Bob's Red Mill Gluten Free Whole Grain, Rolled Oats
, be sure to check out my homemade granola and my baked oatmeal recipes. Both make great gluten free breakfasts.
Prices on Amazon vary, so this price may not last long.
Note: This post contains affiliate links. Thanks for supporting this site.
And thanks Money Saving Mom!