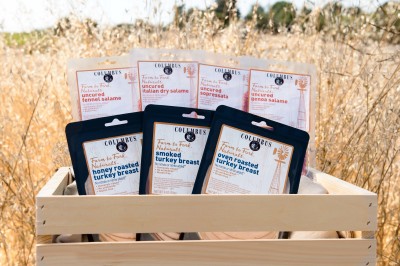 I recently had the opportunity to try Farm To Fork Naturals by Columbus Foods and we loved them.
I know the difference in high quality meats. We raise hogs and buy half a beef from a local rancher each year. And I grew up eating beef and other meat my family raised.
Knowing where your meat comes from and what is in it, makes a big difference, but I will admit when it comes to lunch meats and cold cut type meats, I usually buy whatever.
Now, first let me say in general we do not often buy prepackaged meats, so when I say I buy whatever, that is usually only once or twice a month. Packaged meats are a pretty rare thing in our house and usually end up on homemade pizza for pizza night.
With all our food issues and reading so many labels as it is, packaged meats have not been where I focus my time on. Yes, I make sure it is gluten and nut free, but besides that I really just buy whatever because to me they all taste about the same.
Farm To Fork Naturals though has changed that for me. Now I know  there is a difference when it comes to packaged meat and I am going to be more careful about which ones I buy.
What I love about Farm To Fork Naturals, and what makes their meats taste better, is that they are minimally processed without the use of nitrates/nitrites, additives, artificial ingredients or preservatives. Their meats taste like meat. It tastes the way it should taste.
I used some of the meat for panini type sandwiches and we all loved them. I used some of the salami on homemade pizza and it was also very good. And I will admit that I grabbed a few pieces here and there plain for a quick lunch, and it was great that way as well.
To find out more information on Farm To Fork Naturals and to find retailers in your area be sure to visit their website. You can also follow them on Facebook and Twitter.
Now for the giveaway:
Two readers will receive a sample package of Farm To Fork Naturals Pre-Sliced Meats. 
All you have to do to enter is leave me a comment.
One entry per person.
Giveaway ends Monday January 21st, 2013.
If you are reading this by email you must click through here and leave a comment on my site to enter.
For more information please see my giveaway policy.