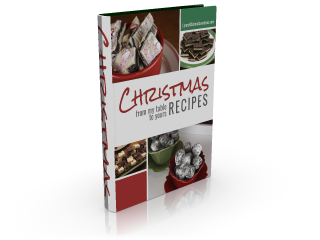 I wanted to let you all know that my Christmas Recipes
 ebook is free on Amazon today and tomorrow only. This is a two day Christmas in July offer, so it will only be free July 24th and 25th.
I have offered this for free the last few years in December, so if you were not able to get it when I offered it before, now is your chance.  It will be back to the full price of $2.99 on the 26th.
This ebook contains a lot of recipes perfect for holiday baking and candy making, but most of the recipes work all year long.
Be sure to get your FREE  kindle copy of Christmas Recipes from My Table To Yours
!
Note for my gluten free readers: This is an older ebook of mine so not all the recipes are gluten free. However many of them are or can easily be adapted using gluten free ingredients.