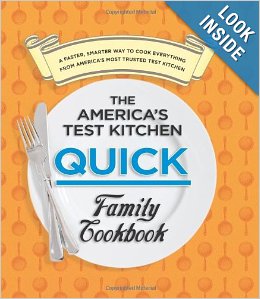 It is no secret that I love cookbooks. I have recieved many as gifts and I love to give them as gifts. They are usually pretty inexpensive to buy and most people love them. Today I thought I would share a few of my favorite cookbooks, along with a few that are on my wishlist.
I love Cook's Illustrated and America's Test kitchen books. I own several of them and use them all the time. A few years ago I bought America's Test Kitchen Quick Family Cookbook
 and love it. Right now it is priced at only $13.98 on Amazon. That is a great deal. If you know someone that loves America's Test Kitchen it would make a great gift.
American's Test Kitchen has a new cookbook out that I love. It is The America's Test Kitchen Cooking School Cookbook
 and it looks like a great book. I don't own this, but I plan to get a copy of it for my girls. This is a great cookbook for those learning to cook or wanting to learn more about mastering cooking. This cookbook is huge, as in over 800 pages, so it is a bit more than I usually spend on a cookbook, but I think this one is worth the price.
I have posted before about Cook's Illustrated Slow Cooker Revolution
 and how much I love it. It is not your normal slow cooking type cookbook. They brought slow cooking to modern day and give tons of tips and ides for using your slow cooker.
Well, I recently discovered that they have a second volume to this. It is Slow Cooker Revolution Volume 2
 and it is now on my wishlist. If this cookbook is anything like the first than I am sure I will love it.
I could go on and on about their cookbooks. Really, you can't go wrong with any of them.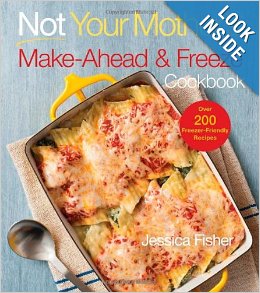 If you are looking for a cookbook that will save you time and money in the kitchen, Not Your Mother's Make-Ahead and Freeze Cookbook
 would make a great gift and it is only $6.78 right now on Amazon. That is a great price.
You all know I love Taste of Home cookbooks and their new cookbook Taste of Home Kid-Approved Cookbook: 300+ Family Tested Fun Foods
 looks like a great cookbook for cooking with kids and those that cook for kids.
For Duck Dynasty fans Miss Kay has a cookbook out called Miss Kay's Duck Commander Kitchen: Faith, Family, and Food–Bringing Our Home to Your Table
 and it looks like a fun down home southern type cooking cookbook. This would be a fun gift for anyone, or any family, that loves Duck Dynasty.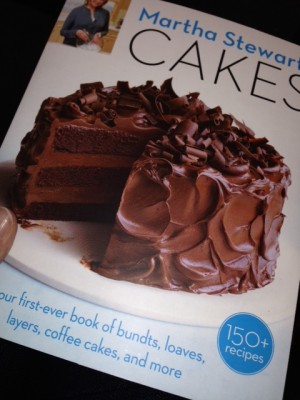 If you follow along over in my allergy section you know that I have been baking my way through the cookbook Martha Stewart's Cakes
, only I am converting the recipes to gluten free. I love this cookbook and it has been fun to convert the recipes to gluten free. Obviously this is not a gluten free cookbook, but for those of you that are not gluten free, this is a great book. If you love baking all kinds of cake, then I think you will love this book.
If you are looking to eat a little healthier, or know someone that is looking for healthier cooking ideas, any of the Cooking Light cookbooks
 are great. I own quite a few of them and have really enjoyed them. Cooking Light magazine also makes a great gift.
Two other books that I have enjoyed this year are The Homemade Pantry: 101 Foods You Can Stop Buying and Start Making
and Make the Bread, Buy the Butter: What You Should and Shouldn't Cook from Scratch
. Both of these books made me step back and really think about what I buy and why. I love books like this because they make me think more about food and why we eat what we do. If you you know someone that loves to cook from scratch and make homemade versions of food, these two books are probably ones they will enjoy.
I always love hearing about new cookbooks, so I would love to hear any new favorites that you have found recently. 
Note: This post contains affiliate links. Thanks for supporting this site.