Homemade berry cobblers, like this Poor Man's Cobber, are some of the easiest homemade desserts you can make!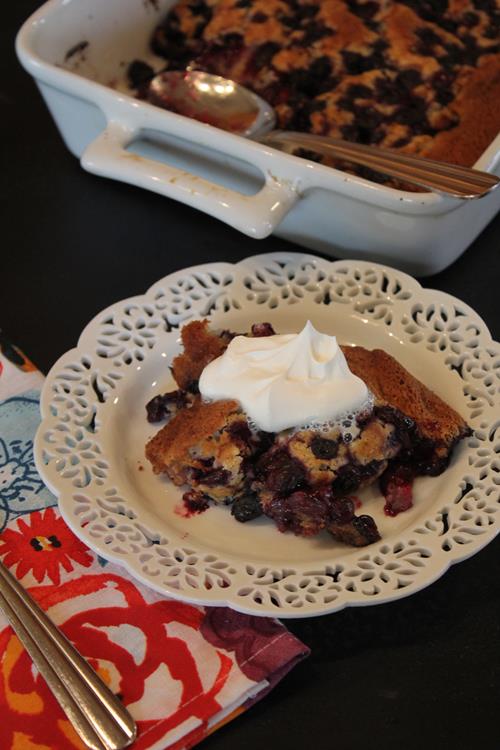 Note: This post contains affiliate links. Thanks for supporting this site.
Growing up in the far northwest corner of Oregon, which is also berry growing country, meant that we ate a lot of cobblers. They are one of the desserts from my childhood that I remember the most.
Since they remind me of my childhood, they have become a comfort food of sorts for me and I love making them.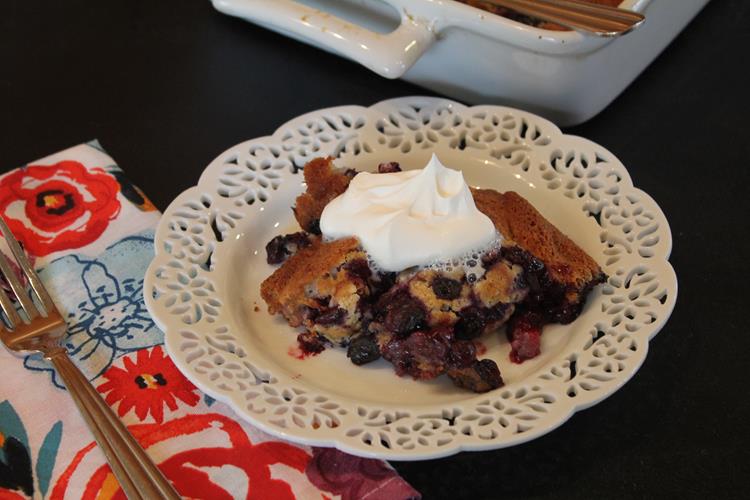 When I first started looking through the Ultimate Homemaking Bundle, I noticed a recipe in the ebook Easy Homemade by Mandi Ehman for Poor Man's Cobbler.
I instantly loved the name because it fits cobbler so well. Cobbler is a basic dessert. You don't have to have fancy ingredients to make it.
And kind of is poor man's food in the sense that people used what they had to make it. Often in the summer they had fresh berries, so berry cobbles made great inexpensive desserts using ingredients they had on hand.
By the way if you have not checked out the Ultimate Homemade Bundle please do. It is a great resource for all things homemaking. This bundle is no longer available, but you can still get this great Easy Homemade ebook on Amazon! And be sure to check out Mandi's site Life Your Way for other great recipes and ideas. 
Now back to the cobbler. I was so glad that I could feature this as part of my Cooking Through My Collection series. I don't feature many ebooks for my cooking through my collection series, but this was one recipe that I knew I had to share.
I made a blueberry version for my family and we loved it. It was gone in one evening. My son ate a good portion of it he loved it so much.
The recipe calls for regular flour, but since it does not have that much flour in it, I just used a gluten free flour blend and it worked fine for this. In fact, it turned out better than I thought it would with the gluten free flour blend. It will definitely be a recipe we make again and again. Especially since we have blueberry bushes.
We always have a lot of blueberries during the summer and I freeze them so that we can use them in desserts like this throughout the year. Cobblers work perfect for using up some of the blueberries.
Poor Man's Cobbler
1/2 cup butter
1 cup flour or use gluten free flour blend
1 cup sugar
1 cup milk
1 1/2 teaspoons baking powder
1/2 teaspoon salt
3 cups blueberries, blackberries, or other fruit.
Preheat oven to 350 degrees.
Place butter in a 9×13 and place pan in the oven until the butter melts.
While the butter is melting place flour, sugar, milk, baking powder, and salt in a bowl. Whisk until combined well.
Pour batter top of butter.
Carefully spoon fruit on top of the batter.
Return to oven and bake for 55-60 minutes or until cobbler is golden brown on top.
Serve as is or with whipped cream or ice cream.