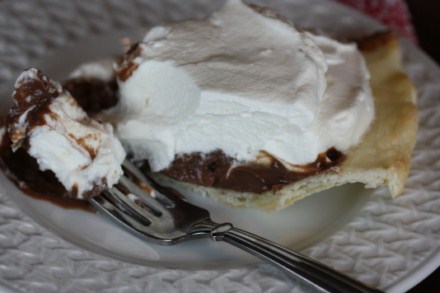 Who says a gluten free pie crust can't taste good?!
Okay, I will admit that if you had asked me a year ago if I would ever make a decent gluten free pie crust, I would have said no.
Pie crust has caused me more trials, more disasters, and more tears than any other gluten free food. You see I could make a really, really good regular pie crust. It was one of my favorite things to make and I could get nice flaky perfect layers. I had perfected it and I was quite proud of it.
Then gluten free entered my life. I missed pie and not the graham cracker or cookie crust kind. I missed real pie, on a real crust.
Over the last two years I have tried and tried to get pie crust right. I have tried several gluten free recipes. I tried to adapt and tweak my own and other recipes. Each one was a disaster. A crumbly or dry mess that went right in the trash. They were so bad that most were not something we could even eat.
Yes, I will admit gluten free pie crust even caused a few tears for me. And I gave up. I was tired of the disasters and I was tired of the frustration of making them only to throw them out.
That was until I saw a post my sister did on a gluten free pie crust she made and loved. I knew if my sister was happy with this pie crust, it must be really good. I decided I would try her recipe for the holidays.
But then last week we were going to a family dinner where pie was being served as the main dessert. Usually I just take a gluten free/nut free dessert for us and we are fine, but this time I could tell my girls wanted what everyone else had. They did not want to be different. They wanted pie also.
So, I set out to try my sister's gluten free pie crust. I decided to do a trial run before I needed it for the family dinner and decided to make up a batch of the crust. And I was shocked at how well this turned it. It was really good.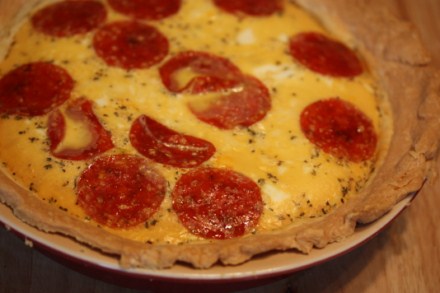 Just by rolling out the crust I could tell it was going to work. In fact, I was so sure it would work and taste good, I used it for a quiche for dinner and a chocolate cream pie for dessert.
I knew the texture looked right, but it was not until I took a bite that I knew this was THE pie crust for me. It worked. It tasted so close to the real thing and it was even semi flaky. It worked.
I am so excited that I now have a gluten free pie crust just in time for holiday pie. I am thinking pumpkin pie, maybe a custard or lemon pie. I see all kinds of pie coming up. So stay tuned for some pie recipes.
A few tips I think help though.
I did use a silicone mat
for rolling out the pie crust and I think it helped a lot. You could probably also just use parchment paper or waxed paper.
This did break and rip some, but it went back together really well. I just pressed it together in the spots that tore and it went back together just fine.
And follow the directions. Cold ingredients and freezing the butter really do help and make this better.
I decided not to post the recipe, but to send you to my sister's site for it. She adapted it from another blogger, and they both have great posts up about it, so I will let them show you how it is done.
Now go make yourself a gluten free pie. You know you want one. 🙂