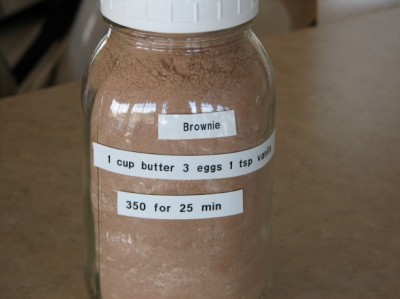 This week I received a comment from one of my readers about my homemade brownie mix. She loved the flavor of the brownies, but was having trouble getting the right texture. She lives at a high altitude and thought that might be the prombelm and she asked if I knew of any tips that might help.
Although I have made my homemade brownies many times, in both the regular and gluten free version, I have never lived at a high altitude, so I was clueless on how to help.
So, I asked my friend Carrie who lives in Colorado, and blogs at Springs Bargains and Denver Bargains, if she had any tips that might help. She took on the challenge and offered to share her thoughts with my readers.
Thanks Carrie!
When Lynn told me one of her readers was having trouble adjusting her homemade brownie mix recipe for high-altitude, I jumped at the chance to try it out and see what I could tweak to make it work.
Now, I live in Colorado Springs, which is 6,035 feet above sea level. It really doesn't feel like high-altitude to me, as we can see the mountains but aren't really in them, so the thought of having to adjust recipes for the elevation hadn't occurred to me until our first Easter in Colorado found me assigned to make two cakes, both of which rose beautifully, and then fell in just as dramatic of a fashion.
When Lynn's reader said the brownie recipe turned out extremely gooey, I knew exactly what she was talking about. It's exactly the same problem I had when making brownies from a box, before I started following the high-altitude directions.
For Duncan Hines brownie mixes, the box says to decrease the egg from 2 to 1, add two tablespoons of flour, and switch the amounts of water and oil (1/3 cup oil becomes 1/3 cup water, and 1/4 cup water because 1/4 cup oil). I personally like to say that brownies are healthier in Colorado because of the decreased egg and oil!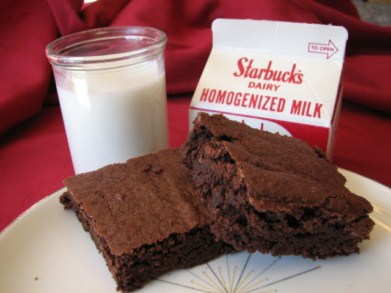 I was thinking of doing something similar to the boxed directions with Lynn's recipe, but asked people on my Springs Bargains Facebook page what they would do. A knowledgeable baker recommended following the guidelines found in the High Altitude Baking
, which were:
Decrease sugar by 1 T per cup
Decrease baking powder by 1/8 tsp per teaspoon
Add 1 to 2 T liquid, such as water
So, I followed those recommendations, and also intended to try it with two eggs instead of three; but as I started mixing it up I could tell that the batter was too dry without the third egg, so I went ahead and threw it in.
I baked the brownies at 350º as recommended in the original recipe, and preheated the oven for at least 30 minutes beforehand just to make sure an improperly-heated oven wasn't going to throw off my results.
After the minimum recommended time of 22 minutes, I checked the brownies. Knowing that the problem I was trying to prevent was gooeyness, I inserted a toothpick into the middle to see how the inside was doing, as the outside looked quite done. I'm not sure that using a toothpick is the proper way to test brownies, but I didn't want to mutilate them with a knife – yet.
The middle was nowhere near done, so I put them back in for another 3 minutes. And another 3 minutes, and another three minutes. By now, we were about 10 minutes over the recommended baking time, and I was starting to get worried about the edges being hard (I've done that a time or two in an effort to prevent gooey brownies)! By this point, I had given up the idea of a perfect-looking pan of brownies and was testing with a knife.
Finally, after about 12 minutes over the recommended time of 22 minutes, I thought they looked basically done, but popped them back in for another minute or two just to make sure.
After 35 minutes of baking, they were finally deemed done! After allowing them to cool, I tested them – I know, such a hard job! – and they were a great texture throughout the pan. And, my worried about the edges being crusty were unfounded: they were nice and chewy, just like a brownie edge should be.
I'd like to try making these again without the sugar, baking powder, and liquid adjustments. I'm not convinced adjusting those items actually did much – I think the key is just to be prepared to bake them much longer than the sea-level recipe states.
I'll test them out again sometime without the adjustments and let you know how they turn out! For now, I would say you can totally use Lynn's brownie mix recipe – just be prepared to bake them anywhere from 10 to 15 minutes longer than the recipe states!

Carrie Isaac shares savings information for high-altitude bargain hunters living in Colorado at Colorado Spring Springs Bargains and Denver Bargains. She frequently gets brownie mixes for 50¢ or less using coupons, but might just start making Lynn's recipe – they were much tastier!
I would love to hear your thoughts on baking at high altitudes? Do you have any other tips to add?