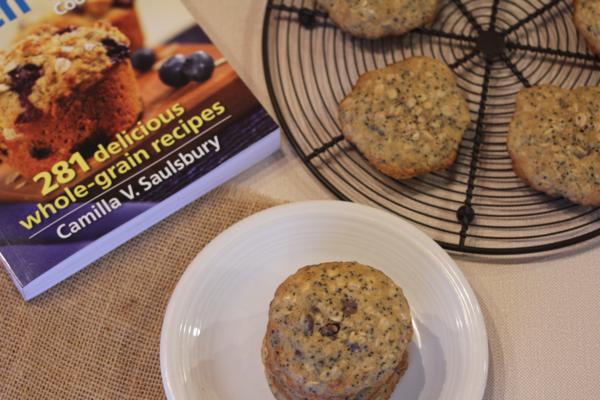 This post is sponsored by Bob's Red Mill and contains affiliate links, but all thoughts and opinions are my own.
I was recently asked to review a new gluten free cookbook from Bob's Red Mill. Since I love cookbooks, and Bob's Red Mill makes some of my favorite gluten free products, I knew I had to say yes. Especially since the cookbook was full of whole grain gluten free recipes.
If you are gluten free, or know someone that is gluten free, you probably know that gluten free doesn't always mean healthier. Yes, in many people it can improve their health, but that does not mean that it is healthier food in general.
Gluten free flours and ingredients are often full of starches and grains like white rice. Those are not the healthiest of ingredients, especially when eaten in large quantities.
That is why I loved the idea of this new cookbook Bob's Red Mill Everyday Gluten-Free Cookbook: 281 Delicious Whole-Grain Recipes
. It is full of recipes that are not only gluten free, but that use whole grains and less starchy ingredients. Ingredients like chia seeds, millet, quinoa, oats, amaranth, and more.
If you are looking to increase the whole grains in your gluten free diet, this cookbook has a lot of great ideas. From soups and salads to breakfasts and desserts. This book has a wide range of healthier, whole grain, gluten free type recipes.
It also has a section where it goes into detail about each grain and the best ways to use and cook them. This information is helpful if you are not familiar with some of the grains and ingredients.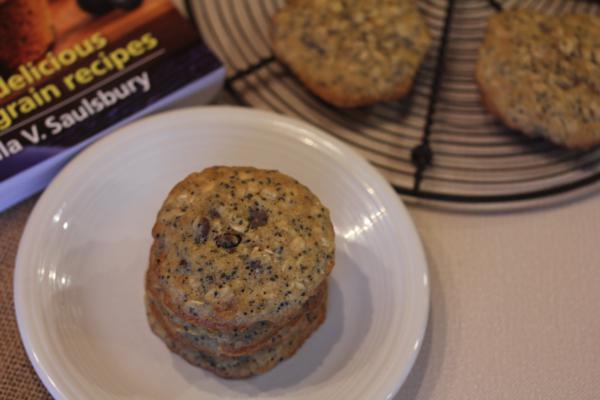 The recipe I decided to try from the cookbook was the Ancient Grain Chocolate Chip Cookie. When I saw the millet and the chia seeds in the recipe I knew it was one I wanted to try. Both of those ingredients are ones that I have been wanting to include more of in our gluten free diet.
These Ancient Grain Chocolate Chip Cookies were really good. They were not your traditional type cookie. They were more of a healthier type cookie, but they were very good. Several in my family might have even eaten one or two of these for breakfast, but we won't mention who. 🙂
I did think these cookies were best the first day or two. By the third day the texture was a bit off on them. If we don't eat them all in the first day or two the next time I make them, I will probably freeze them so they will keep longer. But that is pretty common with many gluten free baked goods. They just don't hold up quite as well as normal baked goods do.
If you are looking for a healthier type cookie that is gluten free this is a great one to try. And if you are looking for whole grain gluten free recipes I think you will enjoy Bob's Red Mill Everyday Gluten-Free Cookbook: 281 Delicious Whole-Grain Recipes
.
The chocolate quinoa waffles are the next recipe from the book that on my to try list. They look so good!
Now for the recipe.
Ancient Grain Chocolate Chip Cookie
1 cup millet flour
1 cup old fashioned gluten free oats
1/4 cup tapioca starch
3 tablespoons chia seed
1/2 teaspoon gluten free baking powder
1/4 teaspoon baking soda
1/4 teaspoon salt
3/4 cup packed brown sugar
1/3 cup softened coconut oil
2 eggs
3 tablespoons maple syrup
1 1/2 teaspoons vanilla extract
3/4 cup gluten free chocolate chips
In a bowl mix together millet flour, gluten free oats, tapioca starch, chia seeds, baking powder, baking soda, and salt. Set aside.
In a mixing bowl beat sugar and coconut oil until light and fluffy. Beat in eggs, maple syrup, and vanilla until well blended.
Stir in flour mixture just until blended. Stir in chocolate chips.
Cover and refrigerate for 1 hour or overnight.
Preheat oven to 350 degrees.
Drop dough by tablespoonfuls onto prepared baking sheets. Space cookies about 2 inches apart.
Bake for 10-12 minutes or until lightly browned and set on the edges.
Let cool on pan for 2 minutes then remove to wire rack to cool.
Note: The recipe said to grind the chia seeds with a mortar and pestle or in a bag with a mallet. I don't have a mortar and pestle and I tried the bag and pounding them, but they did not grind well. So, I just used them and it worked fine.