My friend Emily has opened an Etsy Shop. Emily is a very good seamstress and I have seen quite a bit of her work over the last few years. I only wish I had the talent she does for sewing.
I found out that Emily made and sold doll clothes a few years ago. I was instantly interested. At the time my girls loved and played with their dolls all the time. I bought a couple of doll dresses from Emily for my girls to have. They were really nice and my girls have enjoyed them.
Emily also made my girls matching aprons that they wear when helping with house cleaning. I had trouble finding aprons that fit them well because they were too big for kids aprons and too small for an adult one. The aprons Emily made especially for them worked perfect.
Here is a sample of some of Emily's work.
My girls' dolls dressed in the outfits Emily made.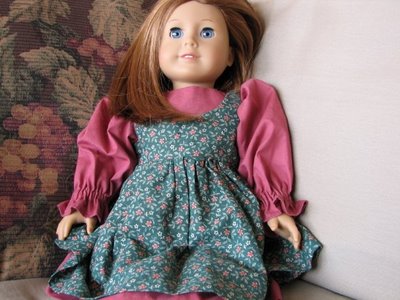 A half apron
A boys/men's apron (or it could be for a farm girl)

and my favorite a retro style apron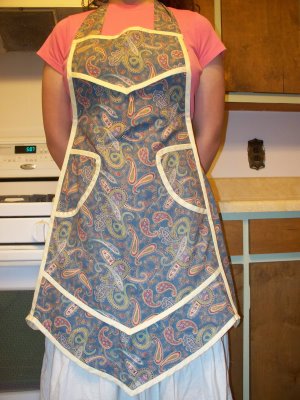 Emily recently contacted me about doing an apron give away. I thought it was a great idea because an apron is the perfect thing to give away on a cooking blog. She has offered to give away one apron from her Etsy store.
So to enter to win an apron visit her store and take a look at her aprons. Come back and leave a comment about which apron you would like to win. Please be sure to leave your email or blog in your comment so that I can contact you if you win. It is that easy.
The give away will end Wednesday March 25th at 5:00.