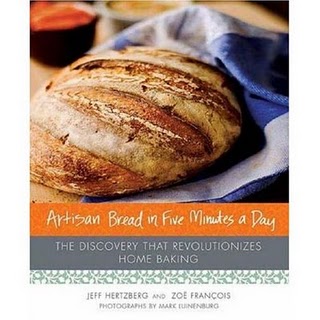 I have a new favorite cookbook, at least it is my favorite for right now. I love to make bread, and we love to eat bread. So, this cookbook automatically caught my attention.
Artisan Bread In Five Minutes A Day is a great source for bread recipes. I will start by saying that I think this technically takes longer than five minutes a day, but it is a very quick method of having fresh bread everyday.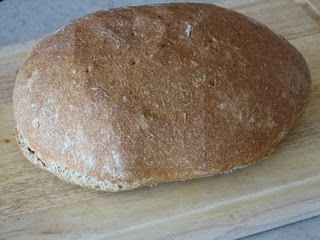 It starts off with a master recipe that you make up and place in the refrigerator to use over the next week or two. It makes a great artisan style, crusty loaf of bread. My husband loved it. I have also tried the master recipe with part whole wheat, and it worked really well. I have used the master recipe for bread, pizza, and also for bread sticks.
I love having dough waiting in the fridge for me to use as needed. If we want pizza, I have it to use for a crust. If we are having spaghetti, I can use it for bread or bread sticks.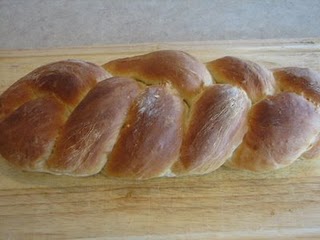 I have also made the Challah Master Recipe that is in the book. This is a great dough recipe also. I used it to make a braided loaf of bread. This was a great bread. We ate it one day, and then we had the leftover for toast the next morning. I also used the Challah Master Recipe to make cinnamon rolls. They were very good, especially, for how easy they were to put together for a last minute breakfast or dessert.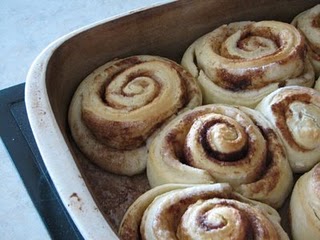 There are several other master dough recipes in the book that I am looking forward to trying. I think the olive oil bread would be great to use for pizza and bread sticks as a change from the original master recipe.
I think you could really do a lot of things with the several master doughs in this cookbook. I am going to try dinner rolls and focaccia with them. I think the possibilities are pretty endless of what you could do with master recipes. I am really glad that I found bread and dough recipes that are so easy and versatile. It not only saves me time but is frugal. (For more frugal ideas see Biblicalwomanhood)
There are several videos online here is a link to one of them. The authors also have a great website that has lots of tips and recipes on it. If you want to try the master recipe I suggest you watch the video. It will show you just how easy it is.
The master recipe is adapted from Artisan Bread In Five Minutes a Day
Artisan Bread
3 cups of lukewarm water
1 1/2 tablespoons yeast
1 1/2 tablespoons kosher salt
6 1/2 cups unbleached, all-purpose flour, more for dusting dough
In a large bowl or plastic container, mix yeast and salt into 3 cups lukewarm water (about 100 degrees). Stir in flour, mixing until there are no dry patches. You can mix this with a wooden spoon or in a large mixer, like a Kitchen Aid, with a dough hook. You do not need to knead this just mix well. Dough will be quite wet. Cover, but not with an airtight lid. Let dough rise at room temperature 2 hours.
Bake at this point or refrigerate, covered, for as long as two weeks.
When ready to bake, sprinkle a little flour on dough and cut off a grapefruit-size piece with serrated knife. (I find for my family I need a larger portion than this)Turn dough in hands to lightly stretch surface, creating a round loaf. You do not kneed the dough at this point. Just form it into a loaf. Place the dough on pizza peel sprinkled with cornmeal; let rest 40 minutes. Repeat with remaining dough or refrigerate it.
Place broiler pan on bottom of oven. Place baking stone on middle rack and turn oven to 450 degrees; heat stone at that temperature for 20 minutes.
Dust dough with flour, slash top with serrated or very sharp knife three times. Slide onto stone. Pour one cup hot water into broiler pan and shut oven quickly to trap steam. Bake until well browned, about 30 minutes. Cool completely.
Variation: I usually just place this on my pizza stone to rise and then place it in the hot oven with a pan of hot water on a lower oven rack. It has worked well for me like that. I think you probably get a little crispier crust when you do it that way they describe. When I made the bread sticks and the pizza I did not use the steam method.