The end of August and first part of September means back to school time for kids. It is an exciting and busy time of year.
After a summer of leisure and fun, it means back to busy times and more of a schedule. For many moms it means busy mornings fixing lunches and getting everyone out the door and to school.
And although I home school my kids, I remember well the busy mornings for my mom packing lunches and getting everyone ready. I grew up always taking my lunch to school. Eating in the school cafeteria was a real treat. We rarely were able to afford school lunches. With four kids and a tight budget, homemade lunches were cheaper. And let's face it, they tasted better and were much healthier.
I don't have to pack my kids a lunch everyday for school, but we do often have a busy schedule of piano lessons, doctor's appointments, and other things that cause us to be away from home during lunch time. Add into that various food allergies and issues, and I can say I have packed my share of lunches to go.
Sandwiches are great for lunch boxes and lunches on the go, but it is always nice to change it up a little and offer something else for lunch.
One of my favorite things to use for lunches are these little containers.
I buy these at Wal-Mart in the food storage or canning section, and they work great for all kinds of things. I actually learned this tip from my mom years ago. I grew up with my mom sending us little containers of food for lunch. She was making homemade fruit cups long before you could buy the pre-packaged ones at the store.
Buying and using little containers like this will save you so much money over time. You can fill them with canned fruit, homemade pudding, or even things like jello. Making homemade versions of these really will save you money and they are not hard to do. I cannot even begin to imagine how much money my mom saved over the years sending us to school with the homemade version of these things.
You can also easily make these little containers of things ahead and keep them in the refrigerator to use throughout the week.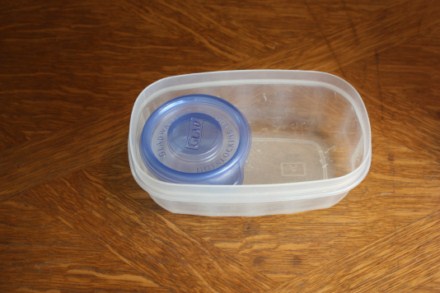 I love using these little containers inside of larger containers. You can place fruit or pudding in the little container and place a sandwich, muffin, or something else next to it.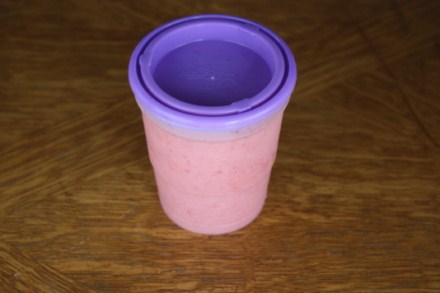 I also love to use these containers for freezer smoothies. I make up a large batch of smoothies and keep them in the freezer in these little containers. Take them out in the morning and place them in a lunch box. They will be defrosted and ready to enjoy at lunch time.
One of the things my kids love for lunches are homemade lunchables. Now, I know many of you probably love lunchables and buy them often, but have you ever thought about making them at home? You can easily spend a little time cutting up meat and cheese early in the week and your homemade lunchables will go together in no time.
It is really easy to make your own lunchable container with a plastic container and some muffin liners, but I recently bought these Easy Lunch Box containers
,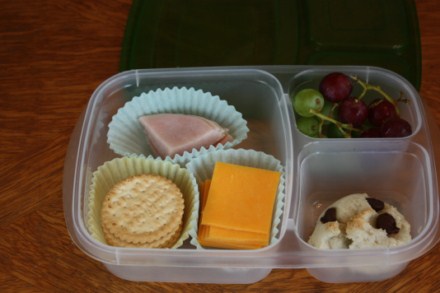 and we love them. They make taking lunch places so easy. I love how you can vary what you place in them. You can do a sandwich, fruit, and dessert. Or you can make homemade lunchables and vary the meat and cheeses you use.
You can serve them with olives and homemade trail mix. We like to make our trail mix with dried fruit and chocolate chips. My mom used to add marshmallows, Cheerios, and nuts to homemade trail mix.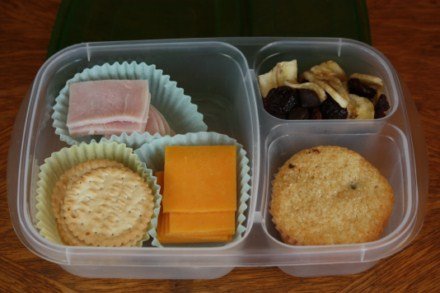 Muffins also make a fun lunchtime treat. You can make banana muffins, chocolate chip muffins, pumpkin muffins, or even my corn dog muffins for a nice change. I almost always have a bag in the freezer full of muffins to use for on the go lunches.
Homemade lunches and food on the go really is not hard, it just takes a little planning. By keeping a few things like muffins, cookies, and smoothies in the freezer, and by doing some of the prep work ahead of time, packing lunches for your kids can be done easily and inexpensively.