These were the the hit of the party or at least one of the more popular items that I served. These were really good. Even I liked them and I don't like spicy food. My husband did say that they were not spicy enough, but he likes really spicy things.
I think you could easily add spice to the cream cheese. You could also easily add some of the insides of the pepper into the cream cheese and mix in a food processor. This would make them a little spicier. I think next time I will do both versions. I will make a regular version and a spicier version.
These are adapted from the Pioneer Woman's version. They are basically the same, but I had to cook mine longer and I also had to put them under the broiler to finish them off. I put the time that mine took to cook, but you may want to watch your time when you make them.
I also used less cream cheese than she said. I bought two packages of cream cheese like she said to use, but it did not take nearly that much. We used just one package and they were plenty full.
And a warning or two on this recipe. It is a good idea to wear gloves when cutting and seeding these. These also really smell up the house when you cut them up. My mother in-law helped me Friday and she had the job of putting these together and it made my whole house smell like peppers when she was cutting them up.
It also worked great to make these ahead of time. My mother in-law put these together in the morning and I kept them refrigerated until I was ready to put them in the oven. It worked great to be able to make them ahead of time and just cook them when I was ready.
I was going to take pictures of these being made, but there was too much going on and I forgot to take pictures of each step. But I did get the picture of the final results.

Bacon Wrapped Jalapenos
20 jalapenos
1 – 8 ounce package of cream cheese at room temperature
1 lb bacon, sliced in 1/2 or 1/3 ( I used my bacon which is cut a little different than store bacon and it took a 1/2 piece of bacon, you just need enough to wrap around the pepper.
Cut jalapenos in half and scoop out the seeds and membranes. Wear latex or rubber gloves if you have them for this part. Fill each 1/2 of pepper with cream cheese. Wrap bacon around  the pepper and stick a a toothpick through it to hold the bacon in place. Bake these on a pan with a rack. I used a foil covered cookie sheet and a cooling rack like this.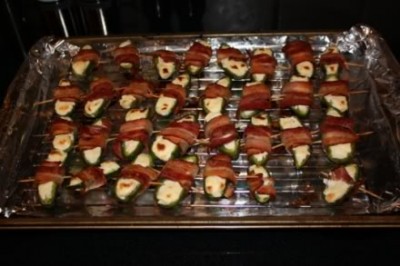 Bake at 375 degrees for 25-30 minutes. Mine did not crisp up quite like I wanted to, so finished off under the broiler for just about 1 minute, but be sure to watch them if you finish them off under the broiler. It does not take long under the broiler.