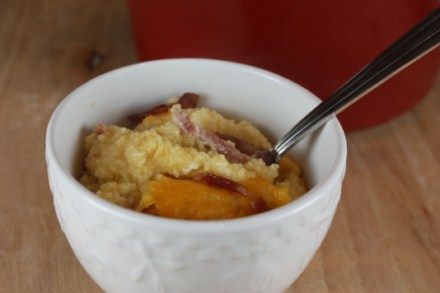 My family loves grits, we do live in Oklahoma after all, and grits are a staple in many kitchens here.
Growing up in Oregon, I never ate grits. They were quite foreign to me when I first moved to Oklahoma, but since the rest of my family enjoys them, I have learned to cook and actually like them.
However, if I am going to eat grits, I want them doctored up a bit, well actually a lot. So, when I saw a recipe for Baked Cheese Grits that used the Holland House Sherry Cooking Wine, I knew that I wanted to try it. Adding wine to grits is certainly a way to doctor them up.
Usually when I use wine in cooking I stick to basic white or red wine, but when I received a box of Holland House products to review, I was amazed at the variety of products that they had available, so the idea of using some of their products in grits intrigued me.
I changed the recipe up some and also added bacon, because bacon makes everything better, doesn't it? And we loved these grits.
These grits could really be served as a main dish, side dish, and even for breakfast or lunch. I really enjoyed the flavor the grits had just from adding a little wine to them.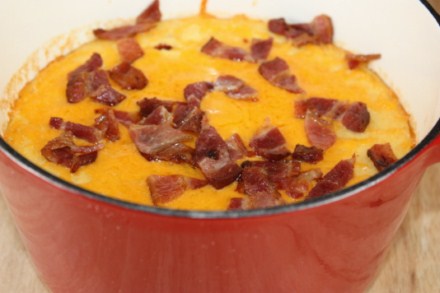 Baked Cheese and Bacon Grits
4 cups water
1 cup regular white grits, not quick grits( I used stone ground yellow grits)
2 cups shredded cheddar cheese
4 tablespoons butter
3 tablespoons Holland House Sherry Cooking Wine
1 tablespoon Worcestershire sauce
½ teaspoon salt
½ teaspoon hot sauce
3 large eggs, beaten
6 slices bacon, cooked
Preheat oven to 325 degrees.
Bring water to a boil in a large saucepan. Add grits, stirring well. Cook 2-3 minutes or until grits start to thicken. This will take closer to 7-9 minutes if using stone ground grits.
Blend in remaining ingredients, except eggs and bacon.
Add 1-2 spoonfuls of hot grits to eggs and stir well. Repeat several times until eggs are warm. Stir eggs into saucepan.
Cut bacon up into small pieces. Stir into grits.
Pour mixture into a 2-quart baking dish. Bake 45 to 50 minutes or until top is golden.
For more information and recipes for using Holland House products please visit the Holland House
Facebook page
and/or sign up for
their Splash Club Newsletter
.
I was provided with Holland House products to review and was compensated for my time and ingredients to write this post. However my thoughts and opinions are my own.